All You Need To Know About The Best Lead Generation Tools For 2023


Lead Generation is the backbone for your customer base and one of the most focused areas for business houses. It is also a great challenge for marketers in the current day world. Also the fact, Google has now saturated its lead magnet tools focusing more into good quality contents.
Since, the number of resources selling these is very high, the customers are well aware of the fact that they need to be choosy where to put their personal information easily. 10 years back the contents that were created are still being made this year and it time to invent new ways in this particular area.
In the present day, where the competition is very high, it is important to stand out. It is very much important to create content that are unique and different from others. You need to try something different from others to stand out in the race.
Much has been tried earlier and still going on and the fact that accumulating the best practices from the pages of pros is a good idea. Let's formulate 10 brilliant lead generation ideas from those pages of the pros of the sector that you can use it for your business.
1. TESTIMONIAL VIDEOS TO INCREASE BRAND SEARCHES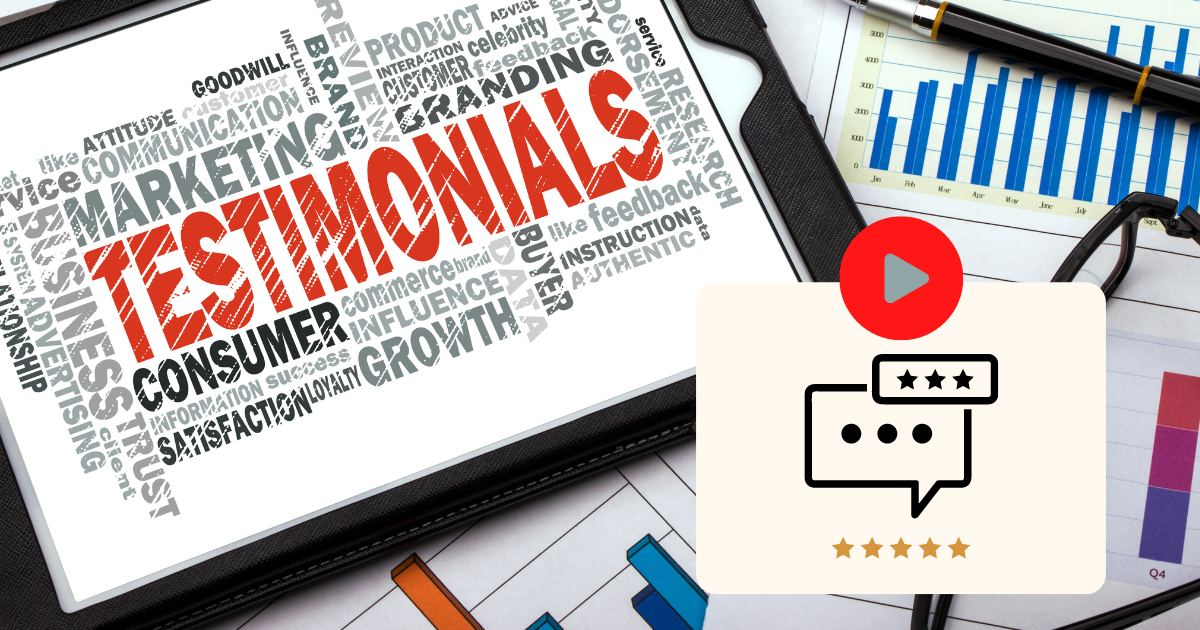 Most of the testimonial videos that are posted by the companies are heads taking about their company, products or services and at the same time nervous customers providing their point of view. This brilliant point is from the pages of Andrew Davis, a best-selling author. According to him, there are also other testimonial videos that work and are completely different from others. These videos are basically customers talking about their story that are amazing.
Andrew recently provided an example on YouTube stating an example that went viral with 31 million views and 50,000 comments. Check out Vance's incredible 365-Day transformation.
This particular video testimonial is a real one with an emotional story. That is why it became so popular on YouTube. Interestingly there is a single moment in the video where he mentioned CTA. But then, the viewer's gets it indirectly. Vance explains his work out and diet program throughout the video which is actually the CTA.
According to Andrew, this perfect video testimonial does not require any call to action and on the other hand this video actually makes the viewer's search for the next videos. This is making the viewer's get going to the next product.
The above example clearly states how it is important to find out the customer stories that are providing great insights about your brand and then to make it a good testimonial video is what success is all about.
2. CONNECTING THOUGH COMMUNITIES
The story is completely different in the case of smaller businesses and freelancers, entrepreneurs and smaller marketing agencies. The approach is different compared to big businesses. Building lists and landing pages will provide you ample leads but in your case, the most important is to connect through social platforms, mouth to mouth communication and interactions. A pro in the B2B SaaS Consultant sector, Nichole Elizabeth DeMere, points out an important thing where she says it is important to build connections sincerely both offline and online.
"Being an active member of my favourite communities has led to me receive leads from other members, because I'm demonstrating expertise in that domain"
She further states that it is very fruitful to be active members in websites such as Growth Hackers. This indirectly brings the sense of being responsible for their community as a member.
When you start demonstrating expertise, it naturally draws people to your company and products or services. The interaction needs to be very genuine and selfless.
"The thing is, 'getting leads' was never my end goal for any of these communities. I was just actively building relationships by bringing value to others"  – Nichole Elizabeth DeMere
3. POWERFUL PERSONALIZED TEMPLATES
A pro in the sector of Digital Marketing, Ross Simonds points out a very important thing. According to him, most of the templates that companies provide are just simple PDFs which are too dry for customers to get into are providing their personal details. According to him, these templates needs to be more personalized so that they can easily attract the customer to download the template.
"Almost every audience loves a template. If you can think about a simple template that arms your audience with the steps they need to take to solve a problem – it can be a great win. Even better; make it an interactive template that gives the user the ability to download it at the end"
Ross further pointed out an example of a policy that was created by Shopify "Free Privacy Policy Generator"
We all know how important are privacy policies and the companies are well aware they need these policies but due to lack of time they are reluctant to create. In the case of Shopify, they have gone a notch higher by providing the customers a personalized template generator.
This tool has a dual benefit as it enables the users to customize their privacy policy and at the same time it is also a win-win situation for Shopify as they can follow up with their leads used in the tools.
"The template approach is interesting because there's a true value exchange. If you're offering a template that is closely aligned with your product or service it can be both a rewarding user experience and a rewarding lead generation tactic." – Ross Simonds
4. CROSS-PROMOTION
Cross Promotion has been in the marketing world for a long time but companies are too reluctant to use cross promotion as it is quite for them to find the right brand to partner with. The main issues here is a similar brand will indirectly affect the business as the customers would overlap, while brands that are not that similar would eventually open up you to customers who are not interested in your products. Briteny Muller, Senior SEO Scientist at MOZ has pointed out very cleverly, the teaming up of Hydrate IV bar and Live Love Lash.
The Hydrate IV Bar teams collaborated with Live Love Lash which is a cross promotion, in opening market for their customers benefiting from both the products.
"The Hydrate IV Bar team was brilliant in thinking outside the box for local lead gen! In what instances are people in a position of stillness/rest where they could also benefit from IV therapy? Lash extensions! This cross-marketing has done very well for both businesses and feels like an efficient use of time for their customers." – Briteny Muller
5. SIDE PROJECTS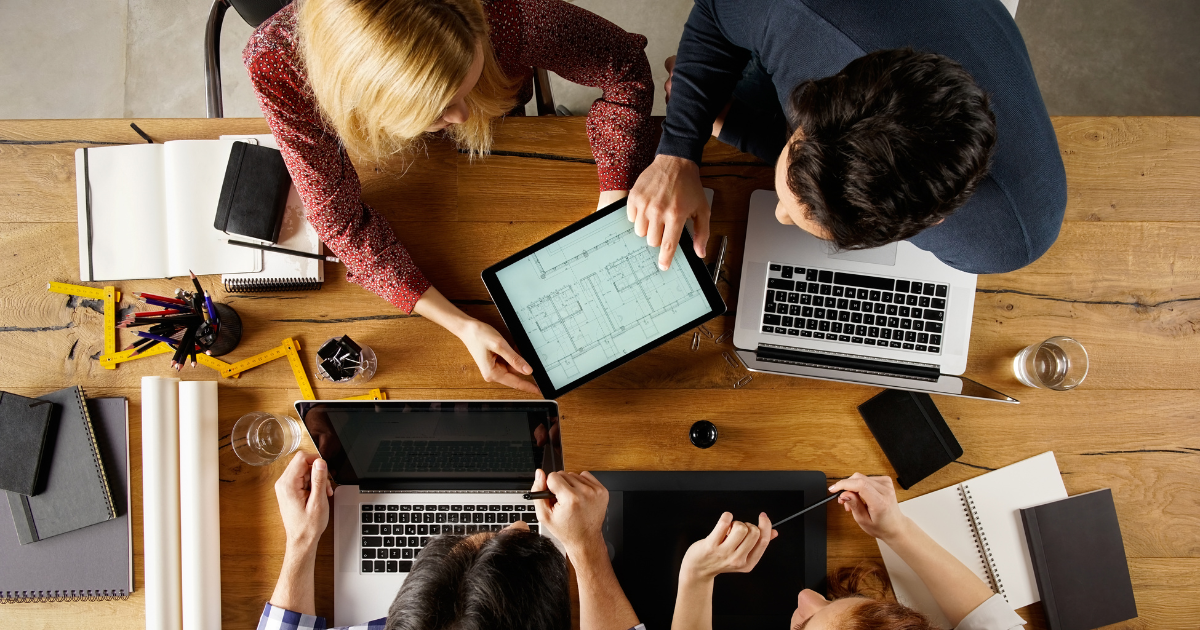 Side Projects are very much vital and there are time when some of the projects that have very little to do with your business can get you connect with customers of a different path. Ryan Robinson, a legend in the side project process, launched a public challenge on his blog where he challenged the public to create business ideas under 30 days and with $500.
This actually made paved the way for many new viewers who were not that aware of his blog. He was really successful in generating leads using this side project process.
"I saw a sizable surge in traffic during my first week of the challenge. Throughout the course of the full month as I updated the challenge post, I picked up almost 3,000 new subscribers on my blog." – Ryan Robinson
6. A SURPRISE QUIZ
We all know that online quizzes has been in the market for ages and but the sales team are less aware of the fact that these quizzes are very effective in generating leads. Chanti Zak, a pro quiz master, demonstrated the technology stating the example of the saucy quiz which she created for Jenna Kutche's Website.
"The results go deep into what uniquely positions you to create a successful business. The custom results meet people where they're at and are intentionally designed to empower them to take action." – Chanti Zak
According to her, to attract more and more leads it is important that the quiz is related to your brand.
7. CREATING AN INTERACTIVE TOOL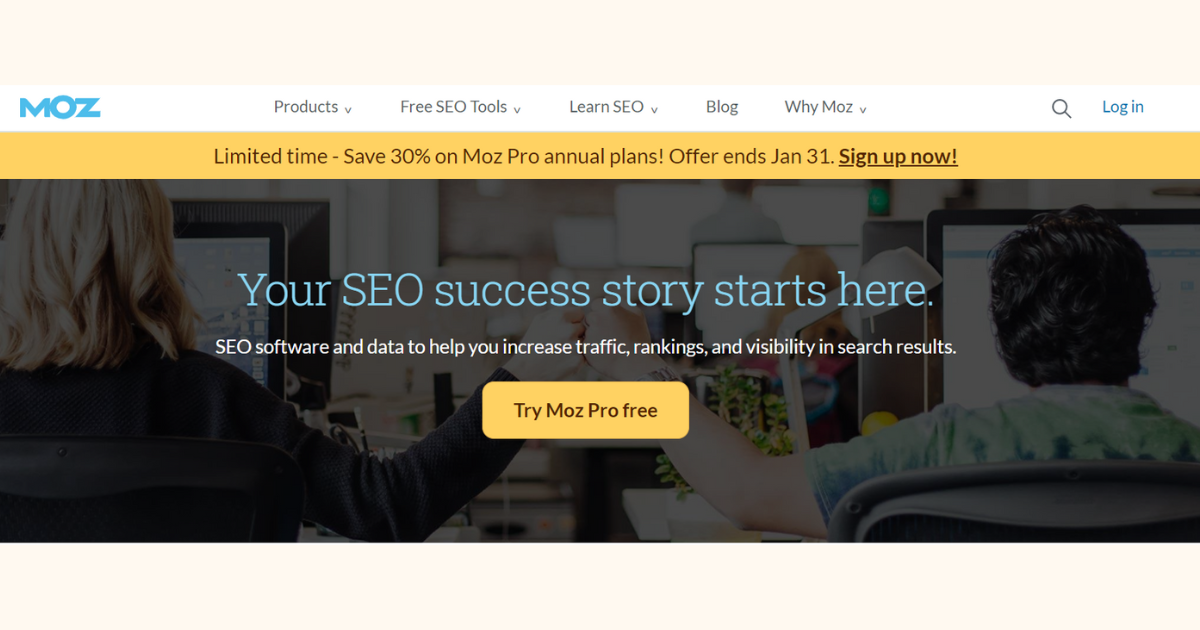 Creating simple and interactive tools is a very good idea and that is why brands such as HubSport, Moz and UnBounce have been working in providing such interactive tools.The CEO or Mobile Monkeys, Larry Kim, pointed out a personal example. They actually created a Free Keyword Tool where the people can come and search for Keywords. This in turn gave them quite a number of leads.
According to Larry, this tool was created in 3 months and it generated over a million of leads.
8. LEAD GENERATION FORMS IN VIDEOS
Lead generation forms in the form of a video are a very good idea and a powerful process. Cara Hogan, content strategist for Zaius put forward the example of their unboxing videos that they presented.We created the Marketing Unboxed video series as a top-of-funnel piece of content designed to engage our target audience of B2C and commerce marketers. By including a lead gen form within the video itself, we encourage people to subscribe, but we don't require it. – Cara Hogan
This was a genius idea that they figured out.
9. INTERVIEWING A THIRD PARTY EXPERT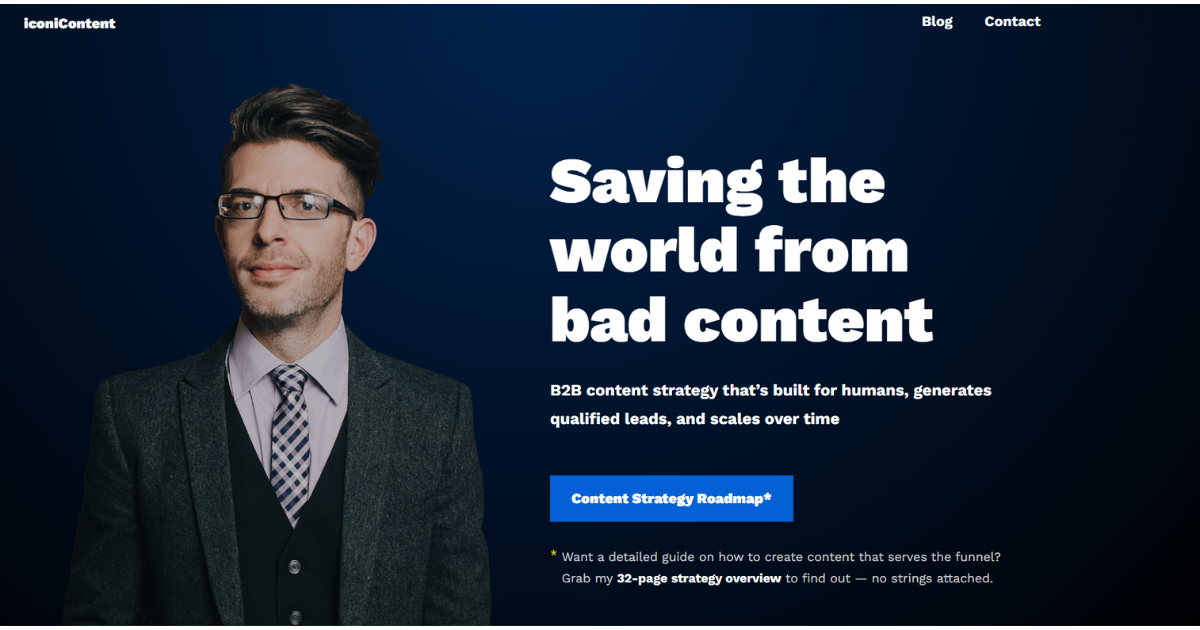 A third party intervene is a very good approach according to Aaron Orendorff, Content Strategist for iconiContent. According to him, it is really a brilliant idea to ask someone else to come and check out your process, which will eventually lead you to newer audience although it basically means you need to step outside your comfort zone. "Rather than a heavy-handed sales pitch, the piece is an interview with Paul Rogers—one of the brightest and most respected leaders in ecommerce … That objectivity—and framing the article as an honest conversation about a 'dirty word'—is highlighted throughout." – Aaron Orendorff
10. DIRECT MAIL
Although direct mail marketing has been for ages, it is still one of the most popular tools in attracting leads.
During their PCC marketing conference, Hero Confwhile sent out their direct mailers where marketers like CasieGillete, Senior Director of Digital Marketing at KoMarketing endorsed the idea.
"What got me was if you played the video to the end, they had a free ticket offer—you just had to respond to the email they had sent earlier … By placing the offer at the end, only those who watched the video all the way through would learn about the offer. A really cool way to grab attention." – Hero Confwhile
The above 10 examples from the legends will definitely help you in your business goals.
36 effective and powerful Tools for generating leads
As we all know the importance of lead generation and its success lies on the tools that you are using, that is why it is very much important to know your tools and select those tools that are important. Here are some of the finest tools in the business that will give your successful results –
Table of Contents
Top Pick
Email Marketing Tools
Email Address Finders
Prospecting & Outreach Tools
CRM Tools
Sales Tools
Communication Tools
Advertising Tools
Other Lead Generation Tools
Top Pick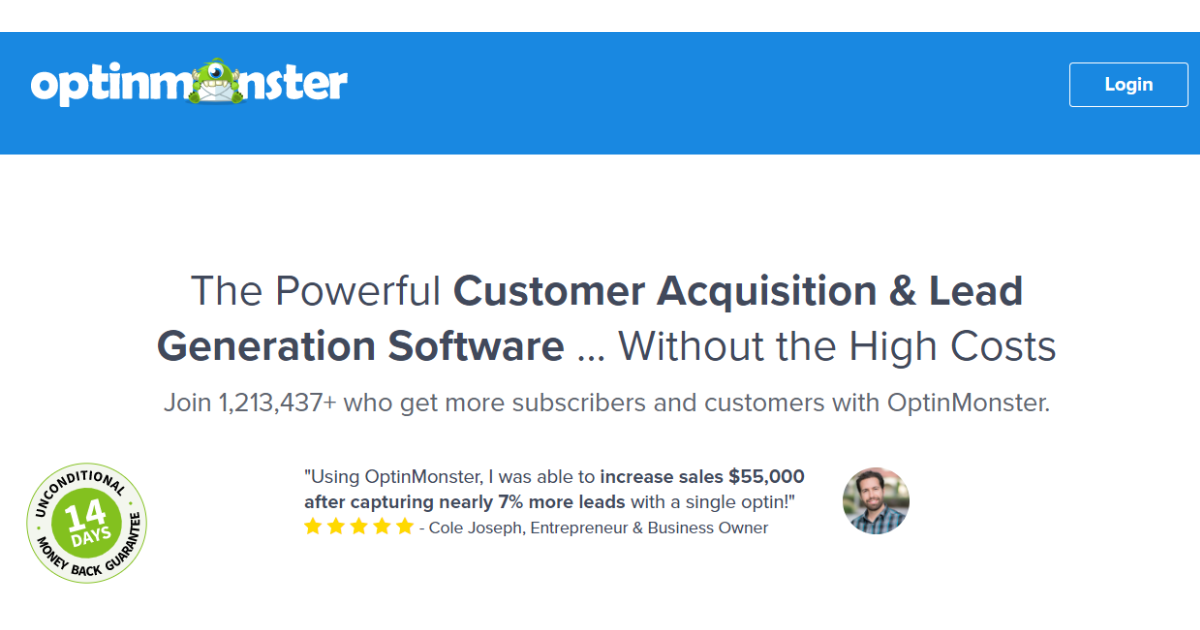 This is the finest lead generation software ever.
The one thing that makes OptinMonster the best is that it is with all the CRM and major email marketing platforms. That is why it is simple to share and manage leads with it. Some of our customers are getting the best out of it and for an example.
SnackNation – SnackNation is earning 1200 new leads each week and this is by using OptinMonster.
Guido's a restaurant – Guido's a restaurant in St Louis has been quite successful in generating 1000 leads weekly.
Whole Shale suits – Whole Shale suits gets about 6500 leads every year.
Woodside communities – Woodside communities were quite successful in increasing their leads by 476%.
With OptinMonster, you can also go for the advanced targeting rules for campaigns.
Page Level targeting – With this you can run campaign on different pages and contents.
Exit-Intern Technology – This one triggers your visitors towards you just when they tries to leave the site
OnSite Retargeting – With the help of this the visitors who returns back can get special offers and gifts
Lead Sharing – You can easily share leads with co-marketing and joint ventures.
Email Marketing Tools
If you are targeting online lead generation then email marketing is the one thing that you cannot ignore. This is probably the best way to generate leads on-line. There are so many companies that are using email marketing tools to generate leads. Here are some of the finest email marketing tools.
Constant Contact Email Marketing Service
Constant Contact is the best in case you have bigger list. Here you can avail highly rated webinars and online training.
Upsend is one of the finest marketing tools where you get a dual advantage. You can use it for email marketing services In-App message and live chat. When you are done with your email marketing tool then check out the email marketing guide.
Email Address Finders
To increase your customer base it is very much important that you get connected with new targets and for that you need email address finders. Here are some of the finest tools –
If you are looking for a quick email search then this is probably the most effective one. Just type in the domain it will pull off the one you are looking for.
It enables you to find emails and phone numbers It basically helps you to find out phone numbers and emails by using Google chrome extension.
You can find any email Id with this tool. It helps you to find email address and phone numbers. Hers you can find in Bulk using CSV file.
Prospecting and outreach tools
If you are eager to turn all your contacts to leads and sales then these are the tools that you need to look for
You can create and send personalized emails with this one. This is one of the finest multi-purpose tools that helps you to send personalized emails and at the same time helps you to automation.
It is online lead generation software. For large and new prospects this is the best one far. They are also the largest commercial data base.
Top lead management software. This is the best one to target those leads that are already using the technology you are offering. It has a prospecting tool that will help you to find the target contact.
Lead Generation Marketing tools. It is quite difficult to track those anonymous visitors and you might miss out one probable prospect buy with the help of Lead Forensics this is sorted out.
For automated lead generation use Growth Bots. From a 200 million contacts, growth bots will select the best prospects. This is very much effective in testing approaches.
This is a web based lead generation tool. For handling both prospecting and outreach this one is the best tool. Here you can reach to them using different templates.
CRM Tools
Throughout your sales, this is the tool that helps you to stay connected with your prospects and targets. Customer Relationship Management tool is a very powerful tool in the marketing sector.
It is a very effective lead generation tool
This tool helps you to organize. This tool also provides free plans and one of its most popular free plans is HubSpot CRM.
Lead Generation Software
Pardot is a very popular lead generation software. This tool make sure that you are taking the best of the best leads.
Lead Capture Tools
This one is known for its association with most of the popular CRM tools and also it has its own in built CRM.
Lead Generation Software
For managing your Google or office 365 this is the one tool that is the best as it is just a click based tool. It is very easy to organize.
Formerly Infusionsoft
This particular tool helps you to keep the information of your customers in a particular location. It also enables you to track responsiveness and interactions.
Automated Email Marketing
This particular tool helps you to form a relationship with your customers. Through inbound and outbound marketing, this one helps you to attract leads.
Lead Generation Tool
This one uses several online sources for you to provide information about your leads. For all major browsers, email programs and mobile platforms this particular tool is very effective.
Lead Generation Tool
To generate leads from Gmail, social media sites and networking sites for businesses this is the best tool in the business. This tool is the best for next action sales.
Sales Tools
The main goal of using a lead generation tool is to convert leads into sales. Let's find out some of the finest tools that will help your business.
Lead Generation Software
This one is one of the finest sales and lead management tools in the world. It enables you to manage lead generation, sales team and several other things.
Lead Generation
For small businesses this one is the best tool. It is one such tool that helps you to save your time and at the same time generate leads.
Lead Generation Tool
LinkedIn Has a huge data base of company information and with the help of this tool you would be able to access these databases.
Lead Generation Software
This is automatic lead generation software that tracks every lead easily. This one is very simple to use. This tool also makes it easier for you to know what the next action that you need to take is.
Communication Tools
Lead Generation Tools
This particular tool helps you to send personal service to customer by conversing with them. It is a very simple and easy to use tool.
This tool is totally customizable Messaging Suite. Intercom is the finest tool if you are looking for a messaging tool for fully site visitors.
27. Bontact
Bontact Lead Generation Tool
If you are looking for using whatapp and Facebook messenger to generate your leads then this is the best tool for your business.
Lead Generation Tool
This tool is a 5 minute step process. After the 5 minute step you can start talking to your visitors.
Advertising Tools
Adword Content Marketing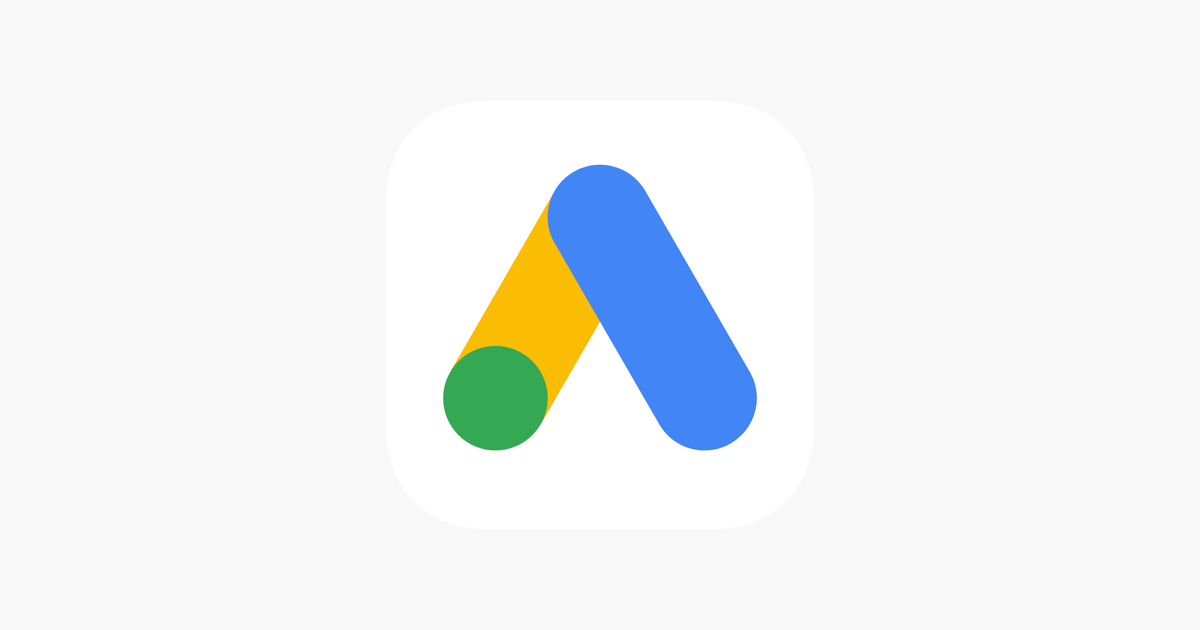 you know about Google Ads you might be very familiar about the fact that they put ads in front of people when they search for related things. It increases the chances of visitors.
Lead Generation Software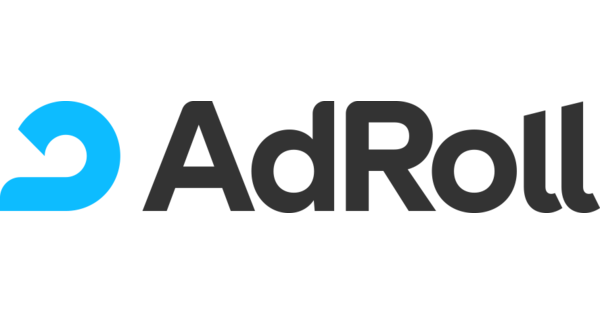 There are varieties of things that this particular tool can do. For posting ads, emails and other such things this tool is the best for your business.
Lead Generation

For creating multiple variants this is the perfect tool. It helps you to optimize Facebook, Google and instagram ads.
Other Lead Generation Software
The best word press giveaway plugin
This one is a different tool from the others; it is actually a viral giveaway plugin for word press. This one helps you to draw traffics through online give always and contests.
Lead Generation Tools

We all know word of mouth can be very powerful and effective tool.  This tools helps you to make your customers advocate.
Lead Generation Tool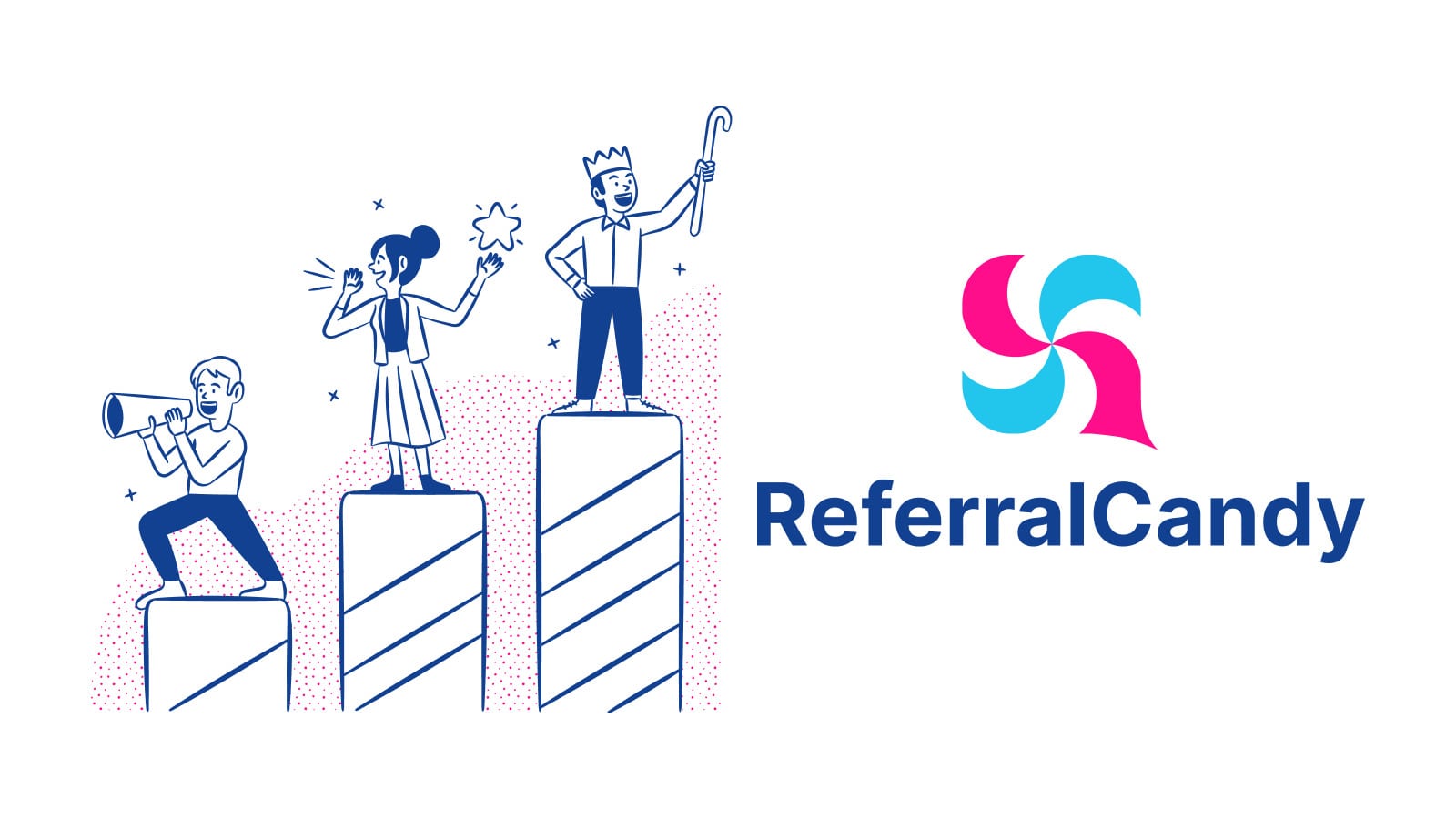 Referral Candy is one such tool that helps your customer with discounts for referring to someone new.
Survey Tools

Surveys and polls are one of the popular ways to generate leads. You can use this tool to create surveys and polls.
Lead Generation Software
This tool enables you to connect multiple services together which are very helpful in some cases. This tool have OptinMonster lead trigger that makes it very easy to connect.
Well! These are the finest lead generation tools in the business that you can use for your campaign.