Halloween Email Marketing: 8 Steps For Ridiculously Profitable Campaigns [2023]
Email marketing can be an extremely lucrative way to earn more revenue in the back end. By building a large list of subscribers, you can create start earning revenue from existing customers and increase your retention rate tremendously.
This means your customer acquisition cost will decrease and you'll no longer need to spend money on paid ads, therefore, your profit margins will go through the roof.
With the Halloween season closely approaching, you want to make sure you catch the wave before it's too late. Because this is a great time to cash out big-time during the Halloween season.
With a little creativity, you can design Halloween-themed emails that will capture people's attention and encourage them to make a purchase. You can also offer special discounts and promotions to your email subscribers to further entice them to buy from you. By capitalizing on the holiday spirit, you can boost your sales and profits significantly.
In this detailed guide, we'll walk you through a  9-step-by-step process on how to plan out ridiculously profitable email marketing campaigns for the Halloween season.
Let's dig in.
What Can You Expect From Halloween Email Marketing?
As the Halloween season approaches, seasoned email marketers are preparing their strategies to take advantage of this extremely lucrative holiday. Consumers are already in the holiday spirit and are more likely to open and click through your emails and eventually buy your product.
Here are a few things you can do to make the most of your Halloween email marketing campaign, according to experts:
Be creative with subject lines: with so many businesses competing for attention, You want to stand out from the crowd and write click-worthy subject lines that capture your customer's attention. Make them spooky, fun, or both!
Incorporate festive images and graphics into your email design.
Use Halloween-themed copy to add some personality to your message.
Offer special discounts or promotions in your email to encourage subscribers to take action.
Encourage subscribers to share your email with friends and family for even more exposure.
Here are a few things you can expect from using this holiday to reach out to your customers:
Increased open rates – Since people are already in the mood for Halloween, they're more likely to open emails with Halloween themes. This means more eyes on your message and product.
Higher click-through rates – Not only will people be more likely to open your email, but they're also more likely to click on links and images within the email. This is a great opportunity to drive traffic to your online store and a bunch of Halloween MONEY.
More engaged subscribers – Engaged subscribers are more likely to convert into paying customers. By sending relevant and timely Halloween-related content, you can keep your subscribers engaged and interested in what you have to offer.
Is Halloween Email Marketing Worth For You?
Halloween email marketing can be a great way to boost your sales and get people in the spooky holiday spirit. However, it can also be a lot of work for not much return if you don't do it right.
Here are a few things to consider when deciding if Halloween email marketing is worth your time.
First, think about your audience. Do they celebrate Halloween? Are they likely to respond well to holiday-themed emails?
Launching any marketing campaign is all about knowing your audience correctly, if your main audience is conservative males in their 60s, this probably won't work. So, If you're not sure, test the waters with a small campaign before going all out.
Second, consider what you're offering. Is it something people will actually want? Make sure your email isn't just a list of random Halloween items – focus on quality over quantity.
Finally, remember that timing is everything. Don't wait until the week of Halloween to start your campaign – people will already have their plans set by then. Planning an effective marketing plan often takes months of preparation. So it's important that you've done the necessary research beforehand.
Here is What Experts Are Saying About Email Marketing On Halloween In 2023
The spookiest holiday of the year is upon us and that means it's time to start thinking about your Halloween marketing strategy.
Here are a few statistics to keep in mind as you plan your campaign:
Americans are expected to spend $9.1 billion on Halloween this year, up from $8.4 billion last year. (National Retail Federation)
43% of Americans say they will spend more on Halloween this year than they did last year. (National Retail Federation)
So, If you're looking to target millennials, you're in luck – they are the demographic most likely to celebrate Halloween and also the most likely to spend money on the holiday.
How To Lay Out The Perfect Email Marketing Strategy For Halloween?
Email marketing is a great way to connect with customers and promote your brand or product. However, email marketing can also be a bit tricky during the Halloween season.
Here are a few tips on how to lay out the perfect email marketing strategy for Halloween:
1. Plan Your Halloween Email Campaigns With A Calendar
As Halloween nears, now is the time to start planning your email campaigns. A calendar can be a helpful tool in organizing your campaign. Here are a few tips to get you started:
Plan ahead and start early. This will give you plenty of time to come up with creative ideas and make any necessary adjustments.
Set a goal for your campaign. What do you want to achieve? More sales, more clicks, more engagement? Having a goal will help you measure the success of your campaign.
Choose the right Email Sender Provider. There are many different email platforms out there, so do some research and find the one that best suits your needs.
Create engaging content. Your email should stand out from all the other Halloween-themed emails people will be receiving. Think outside the box and be creative!
Use attractive visuals in your email that are relevant to the Halloween season. This could include using spooky fonts, dark colors, and other Halloween-themed visuals.
Here is a really good email design for the Halloween season from Really Good Emails to enrich your creativity: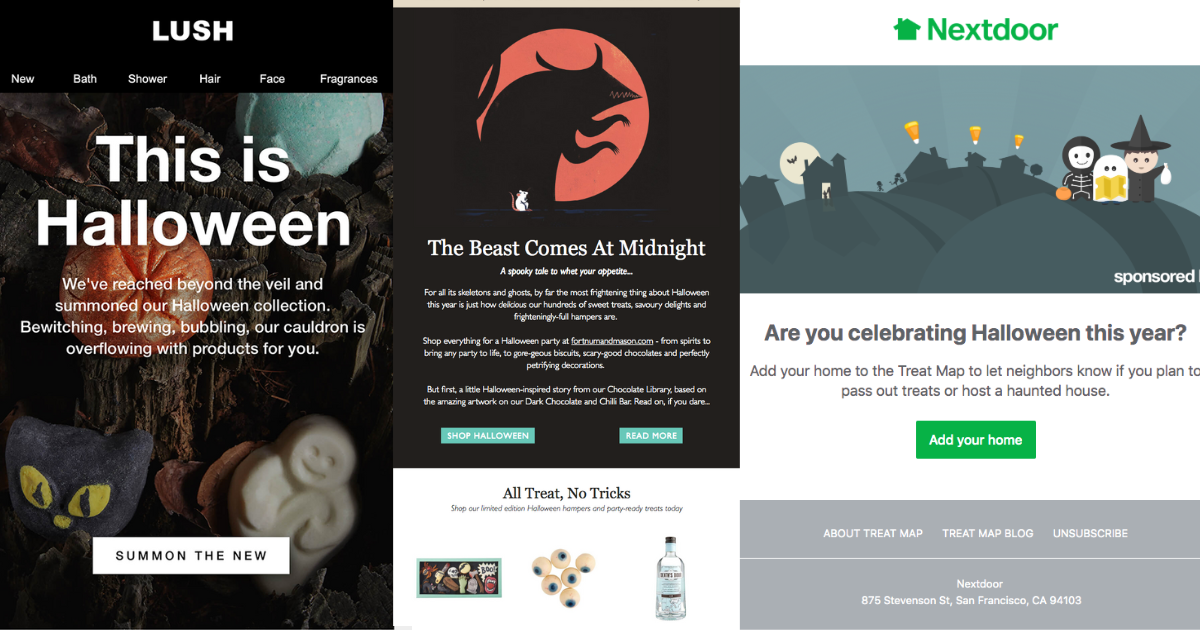 2. Choose an appropriate Design For Halloween
Halloween is a great time to get creative with your email marketing. Themed emails are a great way to engage your customers and get them excited about your products or services. According to recent stats, people are more likely to get incredibly extravagant with their purchases during the Halloween season.
This spooky holiday provides the perfect opportunity to get creative with your email designs and really capture your audience's attention.
So it's important to not get generic with your email designs. if you want to seriously cash out during the Halloween season.
Here are a few tips for designing relevant themed emails for the Halloween holiday:
Incorporate relevant themes into your design. This could include using Halloween-themed graphics or images, as well as incorporating festive colors like orange and black. You can also get creative with your subject lines and make them truly unique.
Keep your message relevant. Make sure your email content is relevant to your customers and their interests. Avoid being too sales-y or promotional and focus on providing value and creating a memorable customer experience.
Offer recipients something special. This could be a discount on their next purchase or even a free shipping code. Whatever you decide, make sure it's something that will entice people to open and click through your email.
Check out this creative Halloween-related email design from Dunkin' And Donuts to get your creative juices flowing for the Halloween season.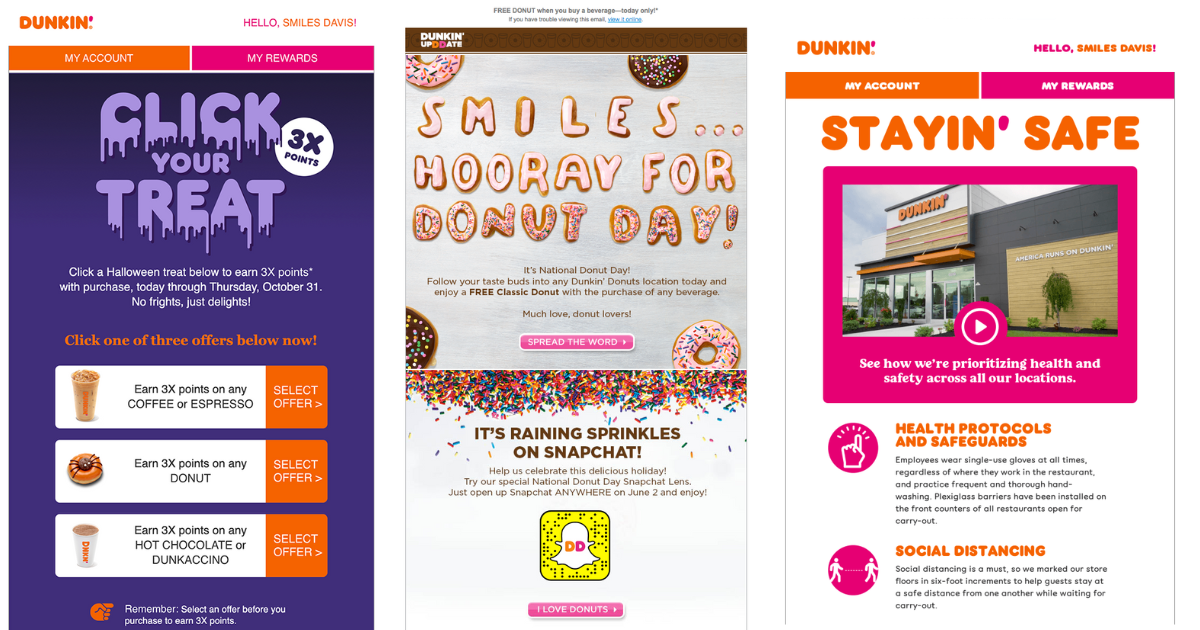 Source: Really Good Emails
3. Write Click-Worthy Halloween Subject Lines
It's that time of year again! The leaves are changing, the air is getting crisp and Halloween is just around the corner.
If you're in charge of your company's email marketing campaign, you know that it's time to start thinking about those all-important subject lines. After all, a great subject line can mean the difference between an email that gets opened and read, and one that ends up in the trash.
Sounds like something you've been through before?
Then keep reading.
So how do you write a great Halloween subject line? Here are a few tips to get you started, according to our experts:
Keep it short and sweet. No one wants to read a long, drawn-out subject line. Stick to something brief and to the point.
Make it relevant. Your subject line should be relevant to your audience and your product or service.
Focus on what would make YOUR ideal customer open an email. What are they interested in? What would make them excited or curious?
Use emojis! They can be a great way to add personality to your subject line and make it stand out in a crowded inbox. Just be sure not to overdo it. 🙂
And last but not least, have fun with it! Halloween is a great time when people escape the mundane routine of day-to-day life and indulge in having fun and meeting family members.
Here are some examples of high-converting and click-worthy subject lines that are related to the Halloween holiday. Steal them today.
Scary savings! 20-50% off Monster Sale, Doorbusters & more – JC Penney
Scary-Good Deals. Creep it real. – Rue La La
Wickedly delicious Halloween treats + same day delivery just £3.95 – Hotel Chocolate
We're soo pump(kin)ed about this free gift – DavidsTea
Don't get ghosted 👻 LAST DAY to grab 15% Off Hair Extensions – Bellami Hair
What? Halloween already? 🎃  – 365Games
Halloween Masks are Here! 🎃 Protect Your Ghoul Gang 👻 – Case-Mate
🎃 👻 🥗 No tricks! Only treats! Enjoy DOUBLE points on all purchases today – SaladWorks
Our Halloween designs are quickly vanishing 👻 – Lovepop
Don't be haunted by bargains you missed!
4. Offer Irresistible Discounts
Discounts are a great way to attract customers during the Halloween holidays. Most business owners know that if they want to make a big buck during the Halloween season, they have to offer some discounts to their loyal costumes, if not their entire customer base.
Some companies even go the extra mile to make their offers irresistible. Here are a few tips to make your discount offers hard to resist:
Make the discount significant – Customers should feel like they're getting a good deal when they take advantage of your offer. A small discount may not be enough to entice them.
Offer a variety of discounts – By offering discounts on different products and services, you'll appeal to a wider range of customers.
Be creative with your discounts – Think outside the box to come up with unique and appealing offers that will really stand out from the competition.
Have a special Halloween sale where everything in the store is discounted for one day only.
Give a free gift with a purchase to anyone who buys something from your store during the Halloween season.
Send out special coupons to your loyal customers that they can use during the Halloween season.
Place flyers around town advertising your special Halloween discounts and deals.
By following these tips, you can create discount offers that will be hard for customers to resist this Halloween season.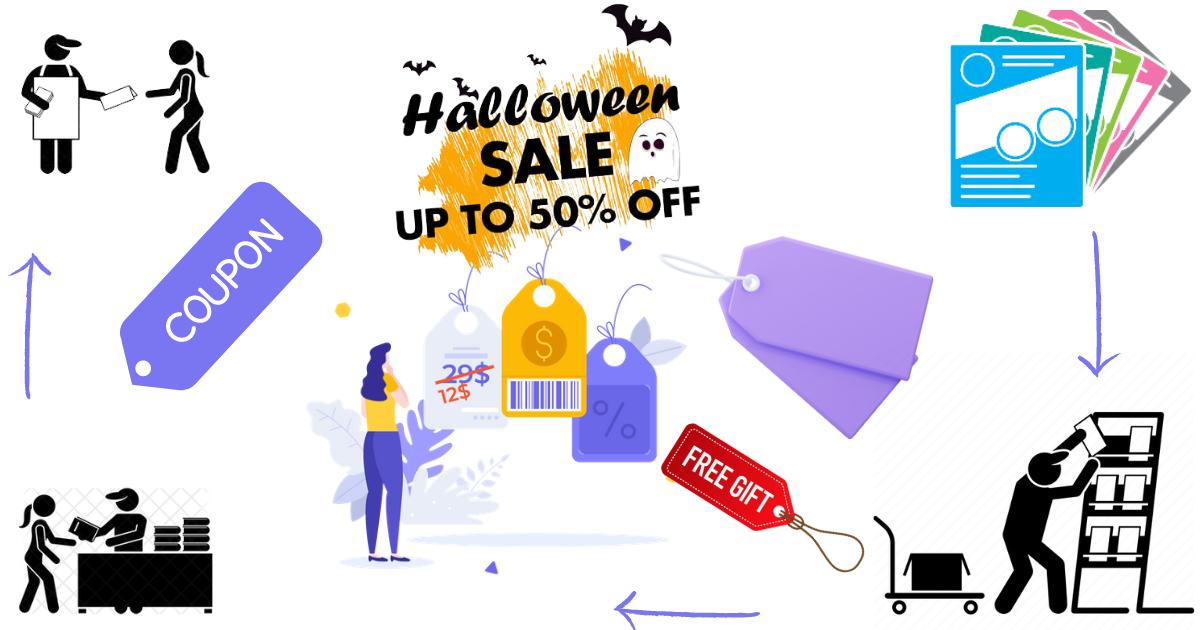 The above email is a great Halloween campaign example that combines short intriguing copy, spooky visuals, and the power of a strong CTA to make a great guide for customers to take action.
5. Put Together A Grand Halloween Sale
With Halloween just around the corner, it means it's time to start thinking about your Halloween sale. This is a great time to offer discounts and promotions to your email subscribers. By planning ahead of time, you can make sure your Halloween sale is a success. Here are a few things you should keep in mind.
First, decide what kind of discounts or promotions you want to offer. Do you want to offer a percentage off all items in your store? Or, perhaps you want to offer free shipping on orders over a certain amount. Whatever you decide, be sure to communicate this information clearly in your email marketing campaign.
Next, create an enticing email subject line that will grab attention and encourage people to open your message. For example, "Get spooky discounts on Halloween items!" or "Huge savings on Halloween costumes – don't miss out!"
Finally, make sure your email design is festive and fun. You don't want to send out generic email designs to your subscribers, make sure to include some spooky and Halloween-ish themes in your designs.
Conclusively, don't forget to follow up with customers after they've made a purchase. Thank them for their business and encourage them to spread the word about your Grand Halloween sale.
6. Reward Loyal Customers With Generous Offers
Using a reliable email sender provider for your email marketing can be a great way to reward loyal customers with generous offers. By keeping track of customer purchase history and using targeted email campaigns with related data metrics. businesses can offer their best customers exclusive deals and discounts that will keep them coming back for more.
In today's competitive market, it's important to keep your best customers happy and engaged. Offering loyalty rewards is a great way to do this, and email marketing is the perfect tool for delivering these offers quickly and easily. With a little planning and execution, you can start showing your loyal customers just how much you appreciate their business.
This will entice them to build a relationship with your brand and will be more likely to buy from you repeatedly.
7. Use Email Marketing Automation To Streamline Your Sales
Email marketing automation can save businesses time and money while also increasing sales. When done correctly, a well-crafted automation sequence can help businesses automate the process of sending out mass emails, tracking results, and creating customized & segmented campaigns that target specific audiences.
There are a lot of email marketing platforms that allow you to do these types of robust automation, such as Convertkit, and Klaviyo, but these two have a higher price tag and can be a little bit expensive for some people. Luckily, if you're browsing the net for a Convertkit alternative, there are plenty of choices to look at based on your own preference.
One of the main benefits of using email marketing automation is that it can save businesses a lot of time. Rather than manually sending out individual emails to each customer. businesses can use email marketing automation to send out mass emails based on people's actions and behaviors. This can be a huge time-saver, especially for businesses with large mailing lists.
Another benefit of email marketing automation is that it allows businesses to track results. You can see how many people opened your emails, clicked on links, and even unsubscribed from the mailing list. This information can be used to improve future campaigns.
To create Halloween campaigns, you need an email marketing automation software tool with a user-friendly workflow editor that allows you to design your ideal designs with a drag-and-drop editor and provides you with readily editable templates.
Skyrocket your Conversion Rates By Cleaning Out You Email List
Email marketing can be a great way to increase your revenue on the back end while keeping your customer acquisition costs low and raising your average order value to the roof by retaining already existing customers.
However, if your email list is full of inactive or unengaged subscribers, it can be difficult to get the conversions you want.
To boost your email marketing conversion rates, it's highly advisable to take some time to clean out your email list. Remove any inactive subscribers who haven't opened or clicked on an email in 6 months or more. Also, segment your list so that you're only sending relevant content to engaged subscribers.
By taking these steps, you'll be able to improve your email conversion rates and better engage with your target audience and dramatically increase your revenue from email during the booming Halloween season.