Did you ever think of living without electronic services or email services? How would it be when you spend lots of time sharing even a very little information? Had life been the same way as it is now?
Of course not! Our world with email or electronic mail has evolved so much that we tend to find it challenging to live without it. We need to fulfil the requirements for surviving and work in the best possible manner—no worries or wandering around in search of free email templates. We are here to give you the broader access to free email templates.
Designing email from scrap is not everyone's cup of tea.
Fortunately, we are coming up with lots of great ideas and the best of suggestions for you.
Don't you want to save your time? Isn't your money precious?
Absolutely Yes! Time and money both are worthy of value. Save your time and cash by simply scrolling down and keeping in view about the time and money-saving. Given below is the free email address list to make the best email template.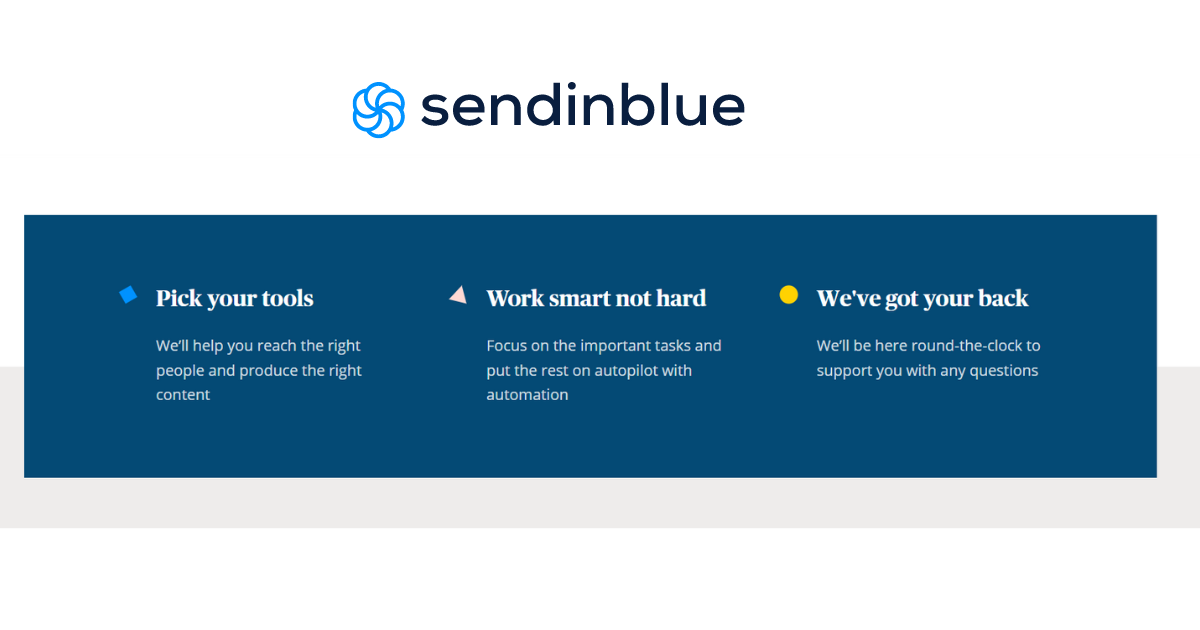 (60 + beautifully designed and responsive email templates):
Sendinblue offers you a free account with access to a range of features with drag and drop responsive tools, template gallery, and email editing. Zero cost Offer! Check free plan of 300 emails per day at no cost.
If you want to choose the best email marketing place then, Sendinblue will be the best choice. It gives an incredibly creative platform for email marketing. Prices are low with access to unlimited contacts. It gives you the free growth, sell, and attractive option quickly.
Sendinblue is a place with dozens of features. Example- "Send time Optimisation" is the feature that increases the rating by automatic use of algorithm and choosing a suitable time for sending or delivering your email. Moreover, it also provides you the set of filtration of contacts in every 24 hours. Sendinblue strengthens the business to grow by building connections with email marketing campaigns. It gives you the tools that are easy to use by simple drag and drop options. It gives you customized and flexible layouts with subscription forms. The provision for spam checking is beneficial to trigger the email marketing. It gives you mobile responsive support in both Android and iPhones.
Sendinblue gives you two options to create email campaigns with ready-made templates:
Responsive design email- What you have to do is drag and drop template from the library of about 60 + templates without any HTML or CSS knowledge.
WYSIWYG HTML email editor- You need to be a more advanced user with HTML knowledge to work on this HTML editor.
Need not to worry, follow below easy and quick steps: Select the template and download it.
Open it in a text editor.
Copy and paste HTML from the text editor to WYSIWYG editor.
You can apply swap images or can change color in the template.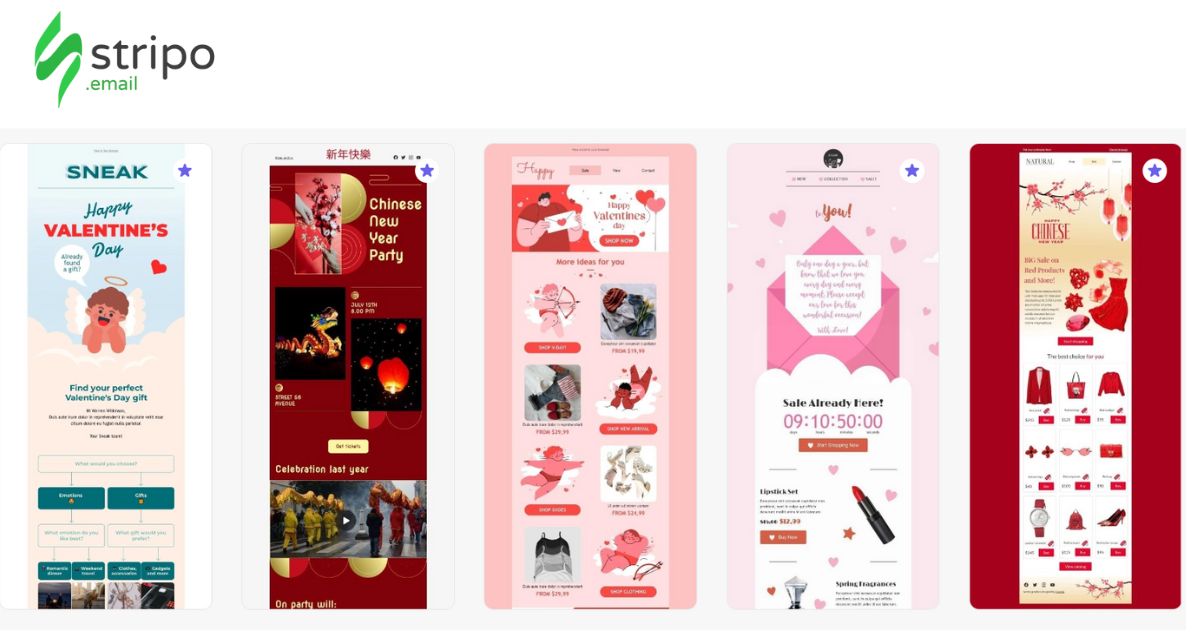 Wow! You get 300 + free HTML email templates. Isn't it amazing?
Stripo has a massive collection of free email templates and that to HTML email templates without HTML skills. It is a site that helps you to make a professional and fast, responsive email template for better email interactions. It also provides email testing tools. Here the email templates are integrated with advanced multiple ESPs. It also gives you the option of downloading the email template in the form of a PDF or OFT file.
Stripo is a time-saving email template site. It saves your time by generating custom modules and by making product cards automatically by keeping in view the link of the content. You can also save the customized modules in your library to reuse them further for future emails. Coding skills are not required for drag and drop email template builder.
Have fun with the features like CSS- animated buttons, customized modules, image rollover effects, and other interactive elements. Stripo provides you a free plan of 4 exports/month to ESPs.
3. Email on Acid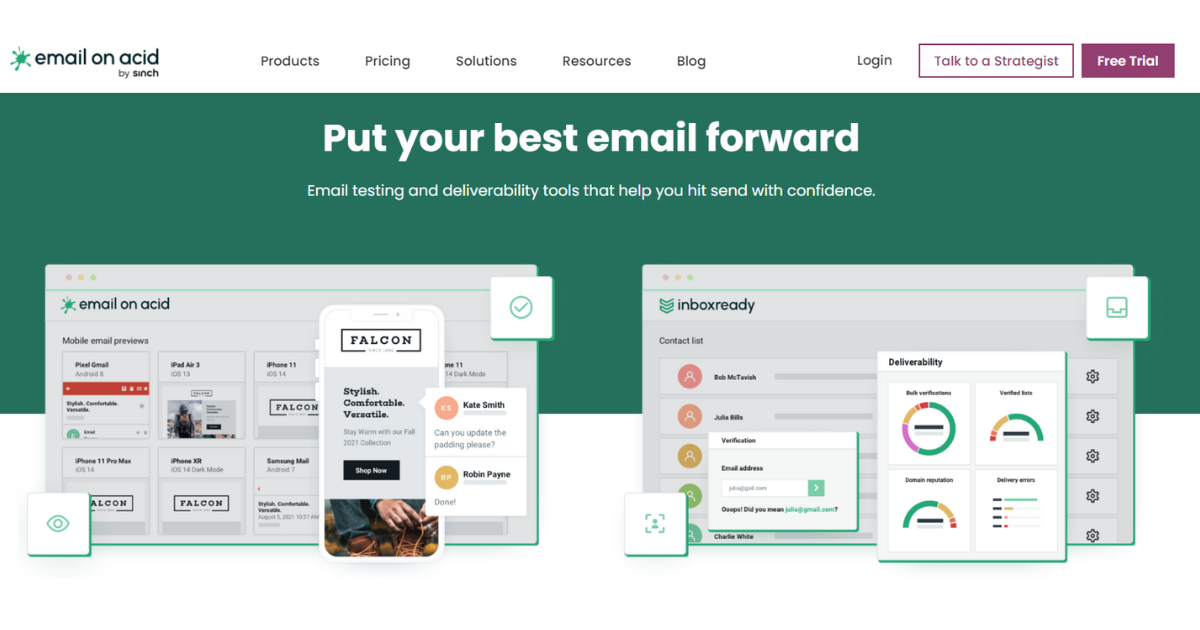 Want to test your email? Email on acid is a testing platform with the opportunity to test emails with email editor, spam testing, and more. Email on acid does not require any HTML experience. It is mobile responsive doesn't matter if Android or iPhones. This site helps you to deliver messages in less time and with the least errors. It allows you to create a more productive, creative, and perfect email template.
Don't you want to make your send button more safer?
Obviously Yes! Email on acid has tools that will work for every email campaign for every inbox message. It helps you to preserve your time with the best email. It has six email templates with zero cost.
4. Litmus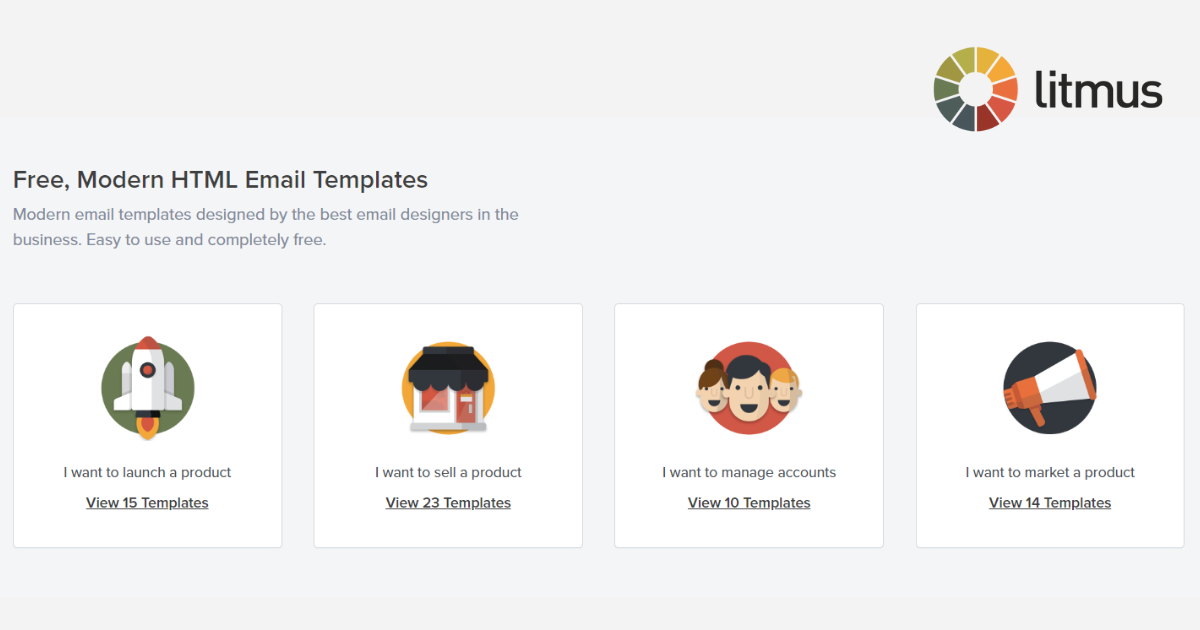 It is another online email testing software that helps test emails. It gives community gallery resources of the HTML email template to help you with your email marketing.
Litmus warns you to be on the safe side before sending email. It gives you the option for spam checking, with a valid email checker. This platform is a combination of perfection and creativity. Litmus strengthens you to get better results by building more effortless and remarkable email-templates. It makes your emails look more creative and analytic at a single glance. It also benefits you by giving them access to the hidden inside that can get great results.
Litmus provides 30 free email templates with five additional templates ranging from newsletter to E-Commerce receipt.
5. Dyspatch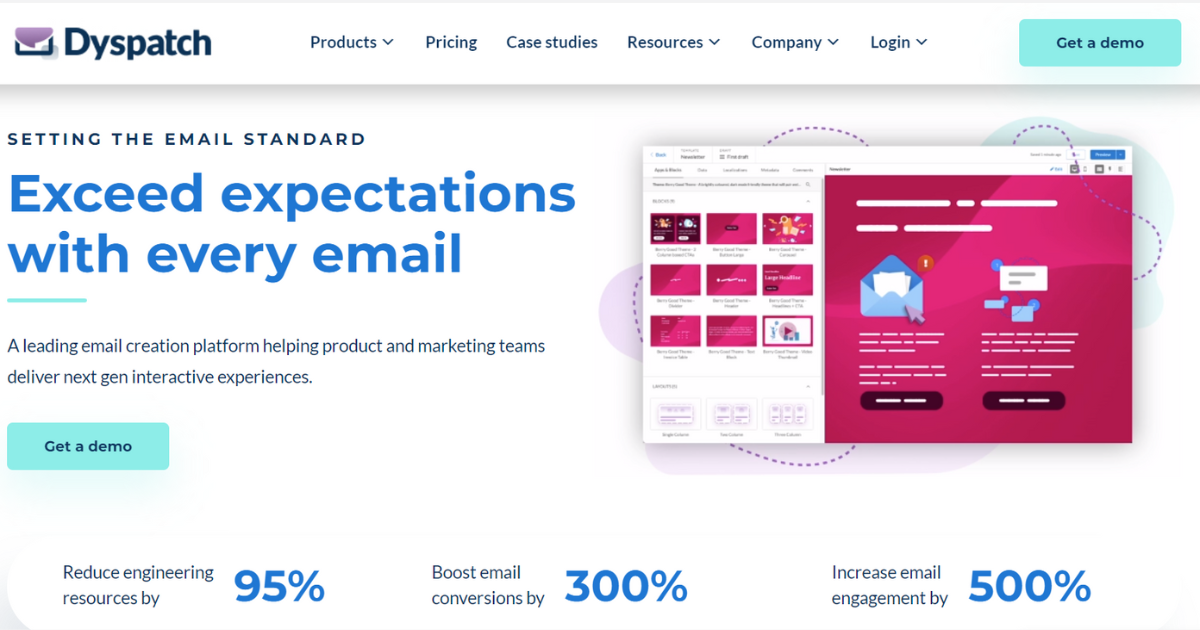 It offers a free email template gallery consisting of 12 different themes. Dyspatch is a mobile-friendly visual email editor. It helps you to deliver more innovative emails with graphic editors to give incredible email experiences. Coding skills are not required. Dyspatch helps you to create exceptional emails with the brand maintenance and use of workspaces. To get real results, you have to make interactive and creative emails on dyspatch.
Dyspatch is suitable for teams. It engages you with AMP ready-made emails. It focuses more on looks rather than coding. Dyspatch is special in email marketing, translation of email, and localization of emails.
6. BEE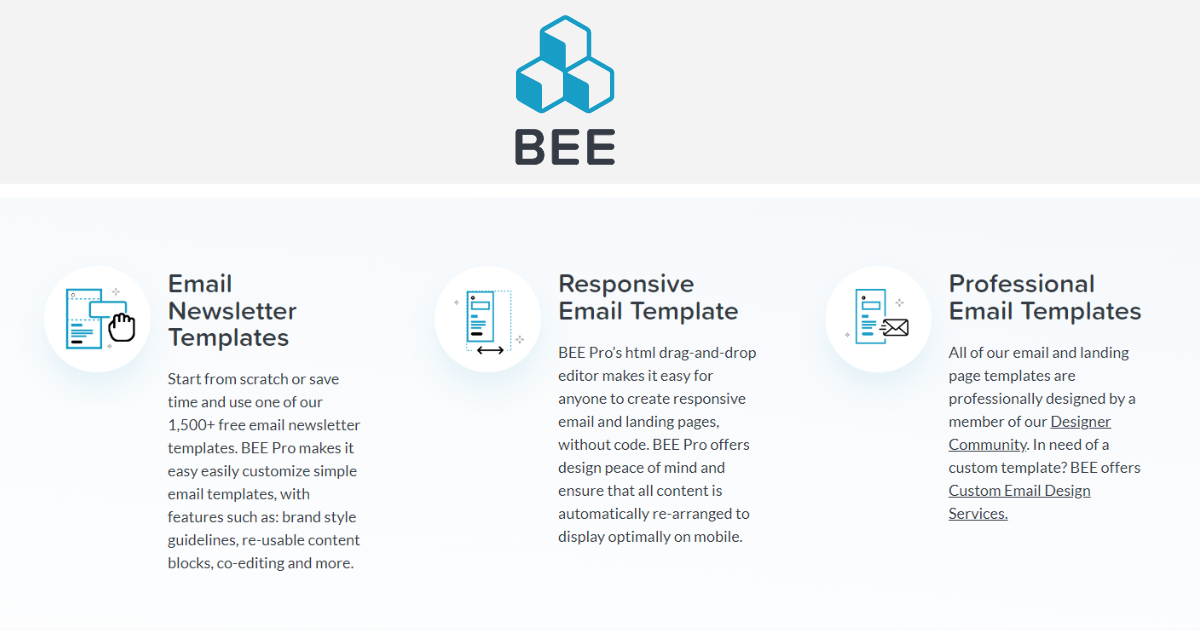 BEE is the online email editor with 200+ professionally designed email template. It is the site to create fast, beautifully designed emails only by drag and drop options. No worries about coding skills. It is mobile responsive by default. You can export your email anywhere. It gives you efficient, time-saving tools for creating emails.
7. Ninety-nine designs
99 Designs offers 45+ free responsive email templates. It is an online graphic design marketplace. By providing the feature of the graphical designing tool, it makes your email look more trendy with the latest designs that will help your email to get a more professional look. Their artist is a unique design with remarkable creative ideas for your email. It gives interactive and artistic design challenging options that will surely fit into your budget. It provides ready-made files with a ready-to-go opportunity for your email.
99designs is a budget-friendly site. It focuses on customer satisfaction. It also facilitates the refund option for security concerns. This site provides you a vast range of email designs to explore. It helps you to make eye-catching graphics with beautiful and clean designs. This site offers a gallery of free email template that can be downloaded from their blog.
8.Antwort
This one is created by freelancer designer Julie Ng. It shows more accessible to clients offering responsive email, with automatic conversion of columns to rows on mobiles. It gives a mobile responsive facility. It focuses more on the coding system than on looks.
Therefore, a coding system is necessary for using Antwort. Antwort plays a vital role in teaching responsive layouts used in email.
Antwort provides three free email templates. This site is an expert in adjusting the entire email layout.
It focuses mainly on adjusting the width of the message to fit either to the desktop or mobile. Litmus and Antwort have connected themselves as partners in the marketing field to get good results.
It is another online site having 15 free email templates in their "freebies section."
It is famous for creating designing of emails. In Pixelbuddha, you can create incredible eye-catching HTML email templates.
Amazing! It offers a set of graphic designing with free premium designing resources.
Email List Validation is the best choice when it comes to email related services. Whether it is free email verification, or spam checker, we got everything covered under our offers! It is vital to keep updating and maintaining your email; it's the only source that connects you with the worldwide users without a hassle.
Final words
For now, you have gone through the excellent access of 9 best websites. Select the best for your interactive email marketing campaign with a proper email format.
Since you are very much aware of the sites and resources that they offer, be smart and thoughtful in deciding which one to use. Be on the safer side and save yourself from using a free email address checker. Choose a budget-friendly and economic friendly site. Use the features wisely for better results.
No more excuses for sending monotonous and dull and boring emails. Use creative, graphic designing to make your email more presentable. Get real results using unique features by making your email more impressive with time-saving and remarkable features.