Companies and brands of all types strive to bring more revenue in by attracting more customers. This is possible only by putting their marketing efforts – and, eventually, their brand – in front of the right people.
As the numbers above show, brands face massive challenges when it comes to generating valuable leads for their companies, validating email addresses, and creating an email list that will make sense for them.
Of course, there's always the issue of competitors. They will also try to get to those leads – assuming they're not already authorities in their niche. So, how can you use lead generation tools to bring your content and services in front of the right eyes?
Let's find out!
Why Should You Use Lead Generation Software?
Lead generation is a tactic that attracts the right leads to the right brand without complicating things. This allows brands to save time, resources, and manpower, while leads interact organically with the brand's content.
It also allows brands to interact with their users in a more personal way, with better insights and functions that help marketers understand customers and the way the product helps their daily lives.
Lead generation can come in many forms. For example, subscription forms and landing page tools are among the most sought-after lead generation tools. But a fantastic blog post or some responsive email templates are just as valuable as any software type. The difference between the two is that lead-gen software gives fantastic insight into how your audience interacts with you. Not to mention the plethora of data you can gather and study.
Lead generation software also allows marketers to understand the customer's journey and whether or not they're the perfect candidate for their brand. For better or worse, there are leads that are not qualified, they're interested in a one-off session with your product, or are not part of the ideal customer profile for you.
As most marketers already know, lead generation is not just a numbers game. You need qualified leads that will be "warm" right off the bat. This is why you need to use tools that can qualify leads, understand the customer's journey and track and analyze how users interact with your brand. In the long run, this can help you with all marketing actions, from personalized offers to email campaigns that make sense to each recipient.
Lead generation tools can also help you with using micro-segments, especially if they use AI and machine learning technology. Micro-segments will help you use spot-on content that corresponds with users on a one-on-one basis.
All of the above make lead-gen tools a valuable asset, seeing as marketers stop needing to filter lists upon lists that will take up too much of their time and slow down the lead generation and qualification process.
How to Pick the Perfect Tool for You
There are some questions to be answered regarding lead generation tools that are more relevant to your marketing objectives and less relevant to the tool's functionality.
First of all, you will need to understand how a lead-gen tool can help you identify your target audience and attract them to your product. To answer that, you'll need to understand the customers you want to attract and how to attract them. Study your ideal customer personas and create content for your marketing channels, PPC campaigns, and website that users will relate to and love.
Of course, the ideal customer isn't a fictional character. Existing customers can give you more data and insights into what your new leads need to become repeaters with your brand. If, for example, they interact perfectly with each new incentive, you'll know that this is something you should include in your future lead-gen campaigns.
You also need a tool that can help you convert those new leads. Reaching your ideal audience is perfect, and getting through to that larger slice of the pie is what you're aiming for. But it would be best if you remembered that it's more efficient to have repeaters than to generate leads all the time. =
Convert them into repeaters and use their social circle to create more and more leads by using a tool that will scale your referral program efforts. This will turn your audience into brand ambassadors while generating leads for you. These leads will be under the same general segments as your pre-existing customers and will know exactly what to look for and what they want from your brand.
And since all data is recorded when we're talking about marketing automation, you'll be able to understand just when your audience needed something more or something less than what your efforts were offering.
Lead Generation Software: The Elements to Look For
Lead-gen products may serve a common goal, but more often than not, they serve one goal better than the next. This is why you'll need to look for specific elements before picking out your tool.
First of all, ensure it's easy to use and comes with a lot of integrations. A tool that is not intuitive and hasn't been designed with the user in mind is not for you. It would be best if you had all of the capabilities minus the code, as lead-gen is a challenge for marketers and not developers.
And since we're talking about lead-gen, we're talking about sales funnel automation and prospecting as well. If, for example, you need to generate leads through LinkedIn, you'll need a tool that can give you that option and understand which leads are qualified.
The experience should be seamless in all stages; this is just as important for the marketer as it is for the leads.
Another pivotal element is scalability. Is your chosen tool ideal for boosting your ROI and helping you grow? Can it help you with your operations and lead generation efforts? Is it intuitive enough with a short learning curve? It would help if you had a tool that can grow as you grow in a cost-effective manner, no less.
Your tool should be able to analyze user behavior and automate processes accordingly. You might understand the way a user interacts, sure. But human error is something tangible that could destroy your campaign, and this can be eliminated through software use.
Besides automating processes, it can help you perfect your cold outreach endeavors and automate all processes, allowing your marketing team – or yourself, if you're a solopreneur – to save time and energy and focus on more important things.
The Best Lead Generation Tools for 2023
As we already mentioned, when we're talking about lead generation tools, we're talking about an umbrella term that includes many different components. But let's see the best lead generation tools and what you can do with them.
Moosend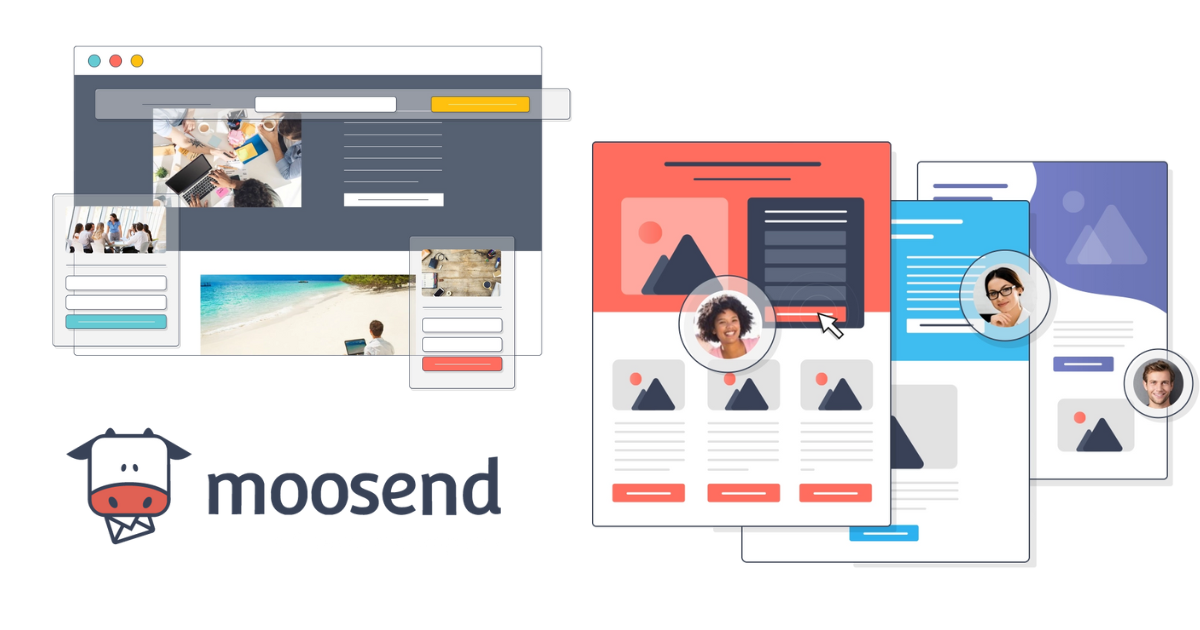 Our first tool for stellar lead generation is Moosend. More than just an email marketing tool, Moosend allows marketers to generate leads through landing pages and subscription forms. Its advanced audience segmentation options will ensure that your users receive just the content they're interested in – nothing more, nothing less.
With Moosend's all-in-one marketing platform, you can generate new leads and curate your content and automation options quickly and easily. Its intuitive platform and short learning curve promise to boost lead generation in no time. At the same time, its drag-and-drop editor and ready-made automation recipes make it easy to customize every element to your liking without needing prior coding knowledge.
Reporting and analytics will help you understand your sales funnel and optimize your efforts. Those reports come in a customized form that can help you focus on the metrics you like with zero distractions.
Besides the platform being user-friendly and being a tool built for marketers who don't want to mix with any coding efforts, Moosend offers tools that can help you with your eCommerce efforts and plenty of integrations. That way, you can use the platform in tandem with your favorite marketing tool.
The platform also offers favorable pricing and flexible options. Prices start at $9/month for your first 500 contacts. This is the price billed monthly. There is also the option of a free 30-day trial, no credit card required. That way, you'll understand if the platform is the lead-gen tool that best meets your needs.
HubSpot Marketing Hub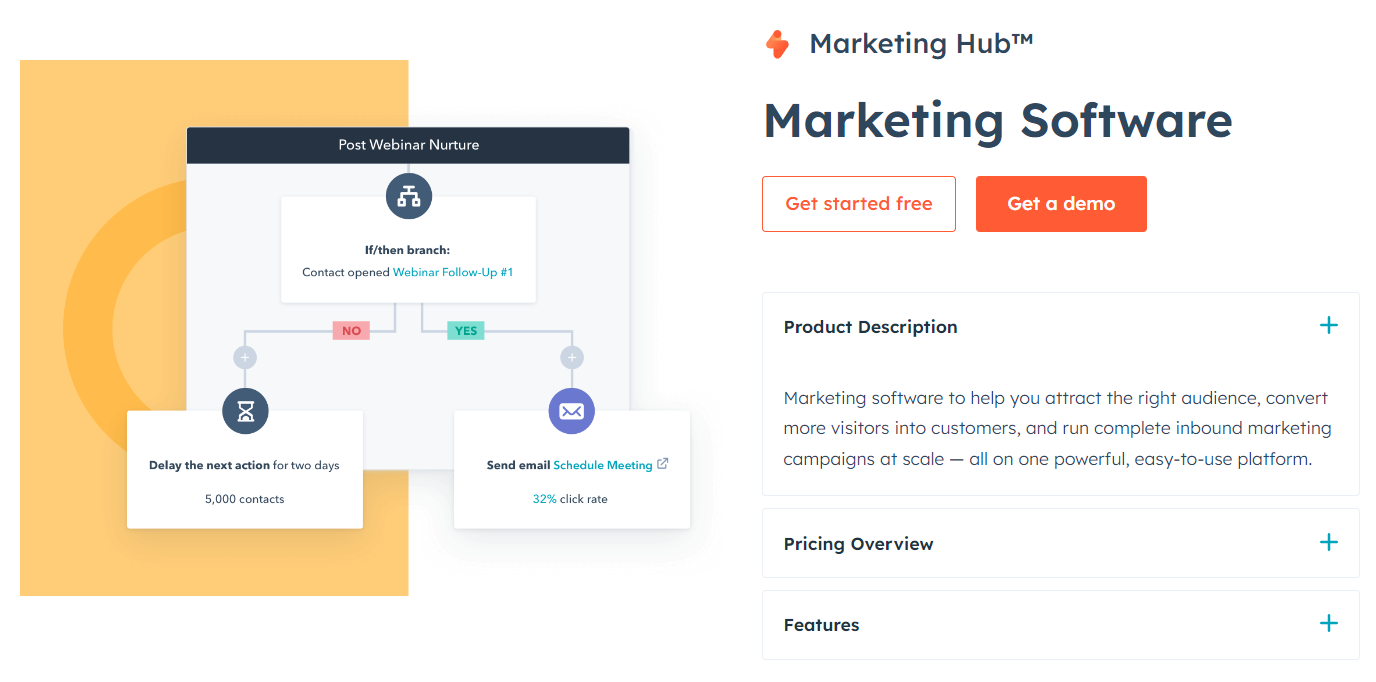 HubSpot's Marketing Hub has a robust suite of features that can help you generate leads with zero issues. It has a free trial that comes with a lot of options that can help you create and nurture leads.
HubSpot's subscription forms, live chat options, and, of course, its free CRM tool are intuitive and can help marketers create a stream of inbound leads. The tools are ideal for helping users understand what their next action should be when creating their lead-gen automation.
Create your forms and landing pages, customize your automation and sit back as it captures the leads you need. Then, HubSpot's tool nurtures those leads, gently nudging them toward their next purchase through email marketing and spot-on content. This will help your audience interact with your brand seamlessly. At the same time, your sales and marketing team has the complete picture of how your audience interacts with you and your brand.
Of course, you may need to use some CSS knowledge if you want to customize your email templates down to a tee down the line.
The tool's prices start at $45/month and can get more pricey as your company grows. If you want to grow your business without breaking the bank, perhaps this is not the best option for you.
Paperform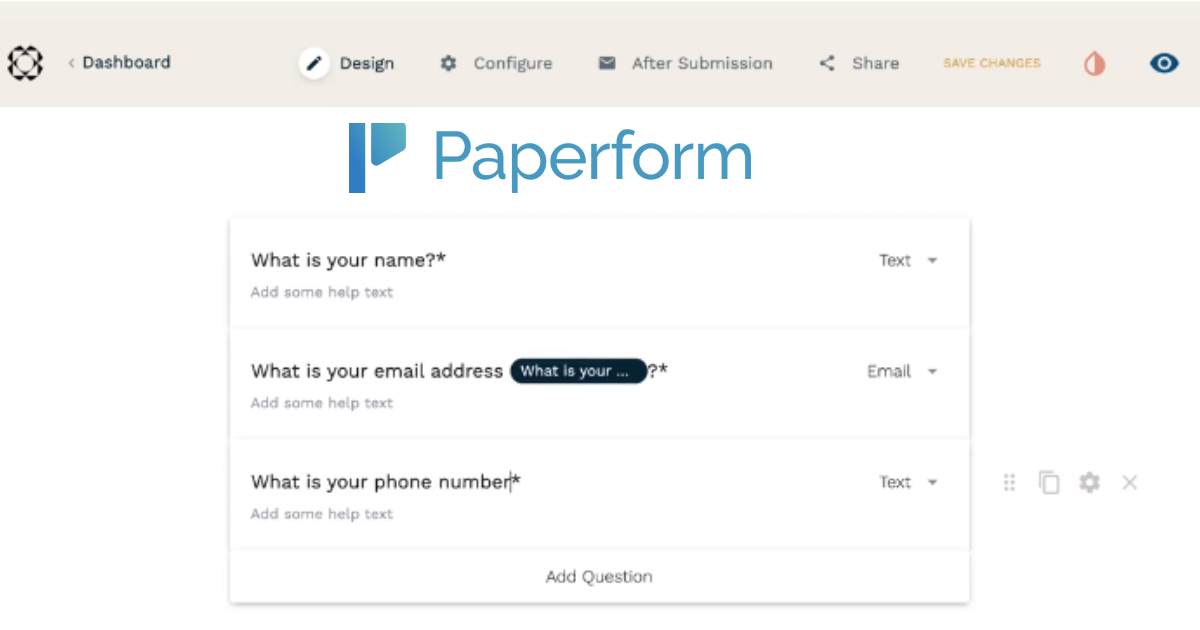 Paperform's platform is one of the best-known lead-gen tools in the market. Its capabilities go well beyond simple forms and quizzes. They can get to ultra-customized newsletter popups with all the elements you'd like without breaking a sweat.
The platform's editor is simple and intuitive, doesn't require any prior coding knowledge, and integrates with solutions like Adobe's Cloud library to help you create and manage your brand's custom image.
Its form builder is smart but could get a little complex if you're looking to introduce tailor-made elements to your forms. However, it's a very powerful solution that combines conditional elements and analytics to create landing pages and subscription forms that make sense to your audience.
There are interactive element options like GIFs and videos that you could add to your forms for maximum engagement as well. Just use a free video editor to create something perfect for your audience, and you're good to go.
Its pricing tiers are fairly reasonable, seeing as prices start at $20/month. However, this tier lacks some lead-gen powerhouse options, such as advanced design and theme forms.
All in all, though, it's a fantastic option for those looking to use lead-gen tools without breaking a sweat.
HotJar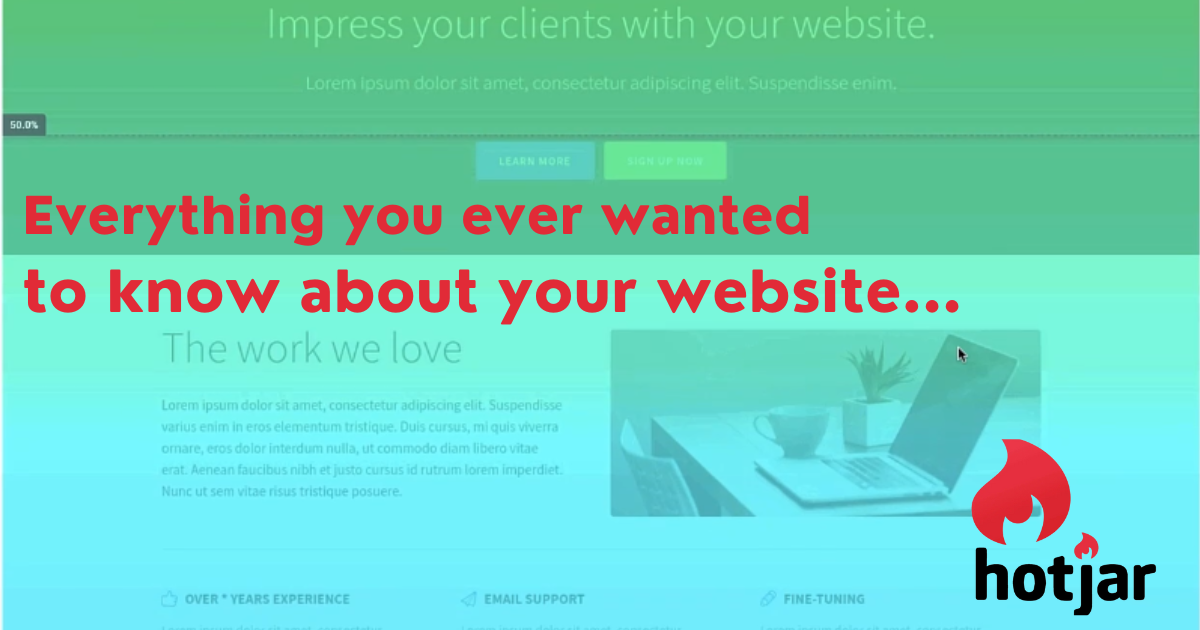 HotJar's platform offers one of the most complete experiences regarding user analytics, with lead generation tools to boot. It can help marketers optimize their lead-gen strategies by providing valuable data, such as form analytics and polls.
Polls are another fantastic way to generate leads, seeing as, to collect some valuable feedback for your business, you will need the prospect's email address to fall back to.
This means that HotJar is not a lead-gen tool per se, but it can double up as one on many occasions. Of course, you cannot use enticing methods like lead magnets. Still, you can use customer journeys to your advantage by capturing user feedback the moment they interact with your brand.
HotJar's platform is intuitive and sports a drag-and-drop builder. Its pricing is fairly decent, as prices start at $32/month. Their free plan is also a fantastic option, but keep in mind that it lacks some essentials, like filtering and segmenting data options.
Unbounce
Unbounce is one of the key landing page builder tools that can help you create your landing pages with the power of AI content. Its platform promises to eliminate writer's block, create unique customer experiences, and build campaigns quickly and easily.
The tool is easy and flexible, with a drag-and-drop editor and plenty of integrations to support your favorite tools without having to learn how to use yet another one. This shortens the learning curve while allowing you to create some of the highest-converting landing pages you've seen up to this point.
Using Unbounce will help you create more than just landing pages. Popup forms and sticky bars are part of their tool as well, making it easy to use a format that will entice your audience and lead them down the sales funnel easily.
But it's not just the audience. Unbounce is one of the tools that marketers love to use, as it's built with them in mind as well. The platform offers personalized recommendations to users to ensure they understand the platform down to a tee.
And let's not forget how Unbounce shows your visitors what they want to see by simply redirecting them to the appropriate landing page and offering them products that are just right.
When it comes to pricing, Unbounce is a little pricey. Their Launch plan starts at $90/month, whereas the free trial lasts fourteen days.
The Takeaway
The features are here; the software types are here, and you're more than ready to start generating leads with ease.
So, don't waste any time. Pick out a lead generation tool and see your conversion skyrocket by building incredible landing pages, subscription forms, and surveys that will definitely engage your audience.
Author Bio:
Téa Liarokapi is a Senior Content Writer for Moosend, an email marketing and marketing automation platform, and an obsessive writer in general. In her free time, she tries to find new ways to stuff more books in her bookcase and content ideas – and cats – to play with.