Email sign-offs: some examples of best and worst email sign-offs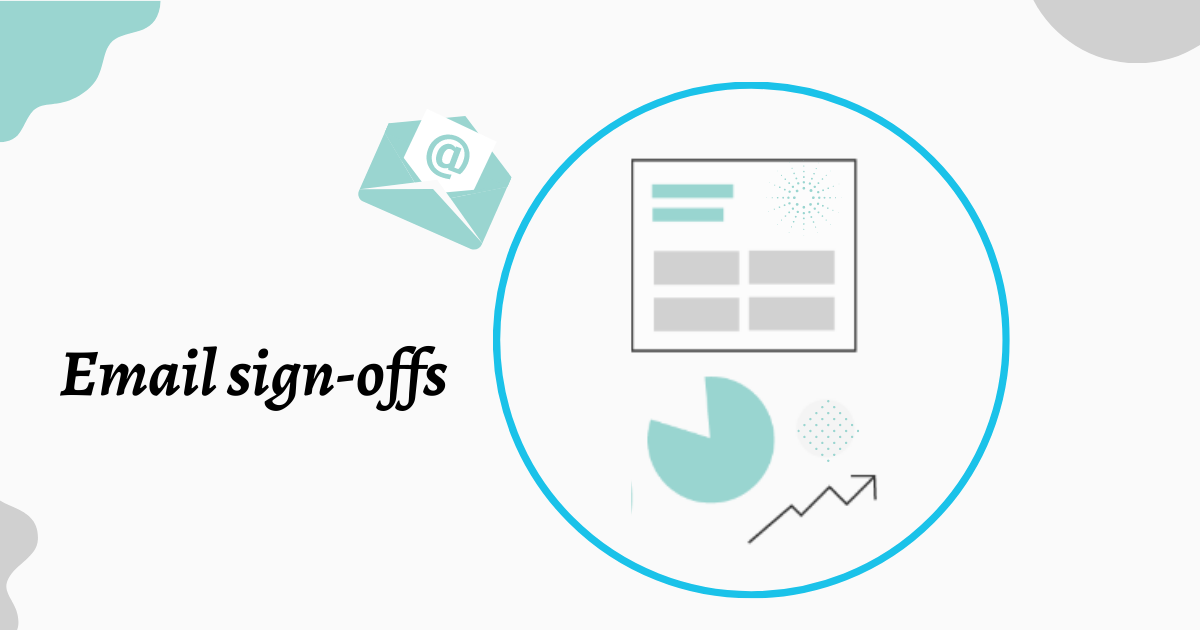 Before I start, let me tell you something.
When I was a newbie with the email marketing business, I sent my emails with the same sign off thank you or sometimes without even a sign-off. At that time, I did not come to comprehend that email sign-offs can actually help you to get connected more with your customers.
When I realized the fact, it indeed helped me in getting more responses from the recipients. Let me tell you email sign-offs are one of the vital parts of email marketing to leave a positive impression upon your customers.
Why I said so? Let me elaborate.
In the 21st century, everything, every business has got competition in the market, right? Every company wants itself to be on the top. And do you think you can draw customer's attention towards your brand by not doing something unique? You must take something unique in hand to stand out.
A good email sign off is as important as a well-crafted email message. An email is not considered flawless with a wrong sign off, although your message is well described. Email sign-offs vary with the type of emails and the receivers. An email sign off that can be used with friends or colleagues is not suitable for business recruiters or other professionals.
Email sign-offs are nothing but a two or three-word phrase that should be written before you sign the email. And yet, people struggle to put the proper word at the end of an email. If you too belong to that category of strugglers, do not worry. We've got you covered.
Go through the blog, and I am sure you will find it beneficial.
Some of the best email sign-offs to conclude your email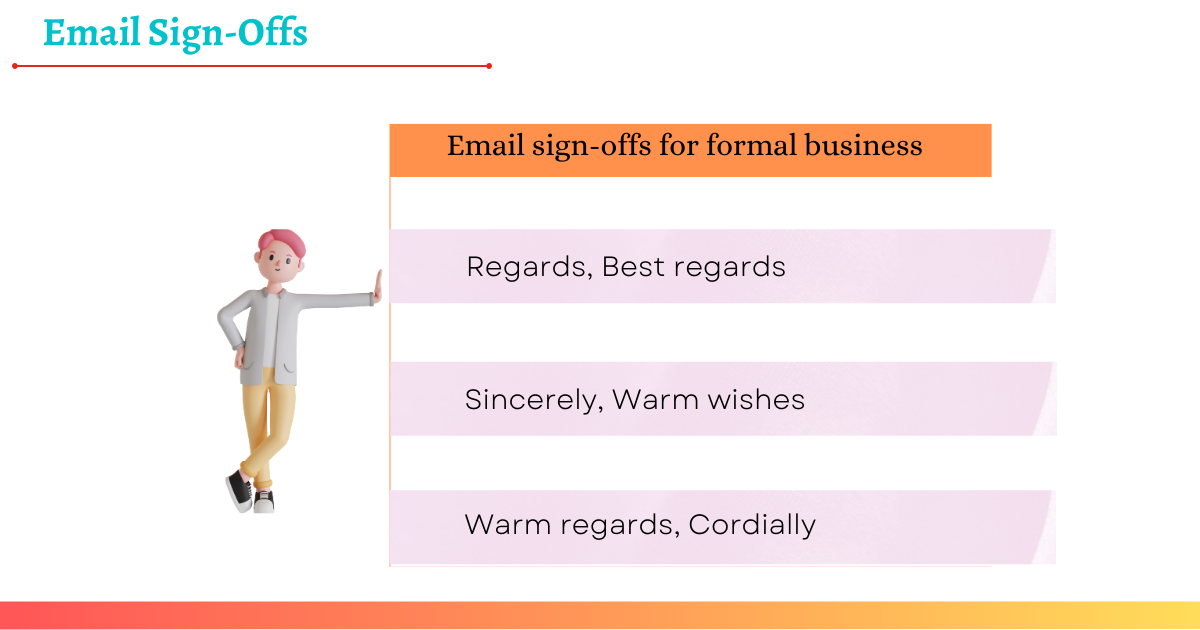 Email sign-offs for formal business
Regards: Brief and quite reasonable in the context of formality. Let me tell you the best part of this sign-off. Regards does not lead to any expectations. But one must need to take care of the purpose of sending emails while using this.
Best regards: It is a safe option to connect with a stranger over emails.
Warm regards: This is one of the decent ways to show your affection to the email recipients. Always remember, when your email receivers feel good, then only they will hit the reply button.
Sincerely: We all have been using it from school with applications and letters. It holds perfection with professional email also.  But small scale organization should think of other email conclusions since it may sound stuffy.
Warm wishes: The combination of politeness and fondness works in most of the cases, but one needs to check whether this sign off will fit with its tone of message or not. Instead of using love or hugs as sign-off, one can opt for this.
Cordially: Cordially is an excellent choice to put at the end of your email to amuse your email receiver.
Email concluding for friendly business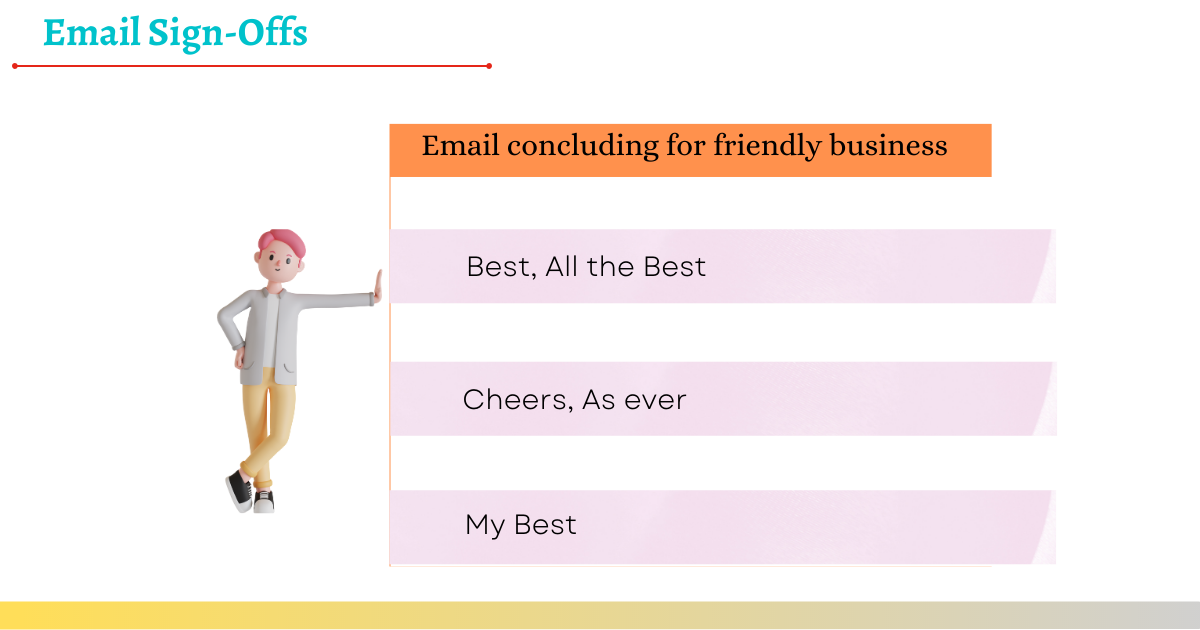 Cheers: I must say this is quite boring since most people prefer to use it. But it is less formal and fits perfectly as the alternative of sincerely. One study by the email app has revealed that email receivers most likely used to respond to emails ended with sign off cheers.
Best: Best means the best wishes less rigidly or cheerfully. It comes into the category of commonly used email closings. But one should avoid this sign off if he wants to make a lasting impression on the receiver or want him to respond.
My best: The same with the above, but more suitable to use in personal matters.
All the best: It goes well with both professional and informal emails.
As ever: This sign off is quite adequate for working fraternity. It establishes a friendly bond with your contact or assures him that everything is fine between him and you.
Email sign-offs to show gratitude and make requests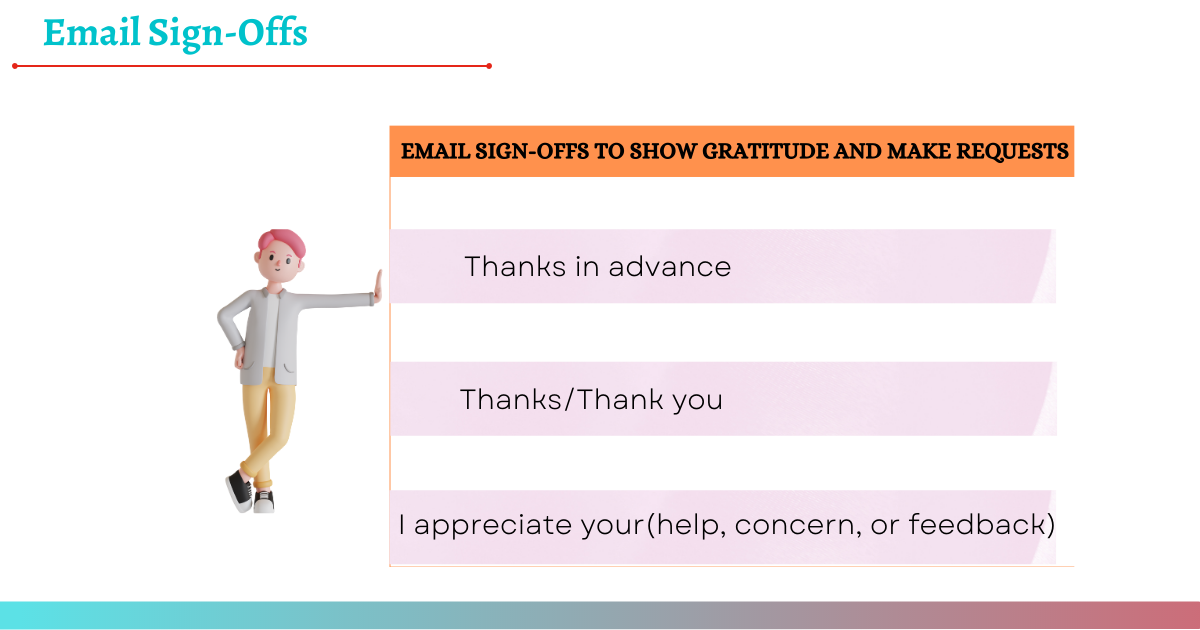 Thanks in advance: The Boomerang study has concluded that the emails with sign-offs thanks in advance has got more responses over the years. Because who doesn't like to receive gratitude? If you are getting it through email, you are more tempted to reply to the sender.
Thanks/Thank you: Thanks is the most sound option to use when you want the receiver to feel gratitude. But it too carries some taint of expectancy along with acknowledgment. It would be better to use thanks as an email sign off when you want to tell someone about your expectations. You can also use sign-offs like thank you for taking some time, thanks for considering me, thanks for the support, thanks for thinking of me, etc. to make your email more standard.
I appreciate your (help, concern, or feedback): When to show your appreciation, put forward your best efforts, even if it is email also.
Email sign-offs to compliment someone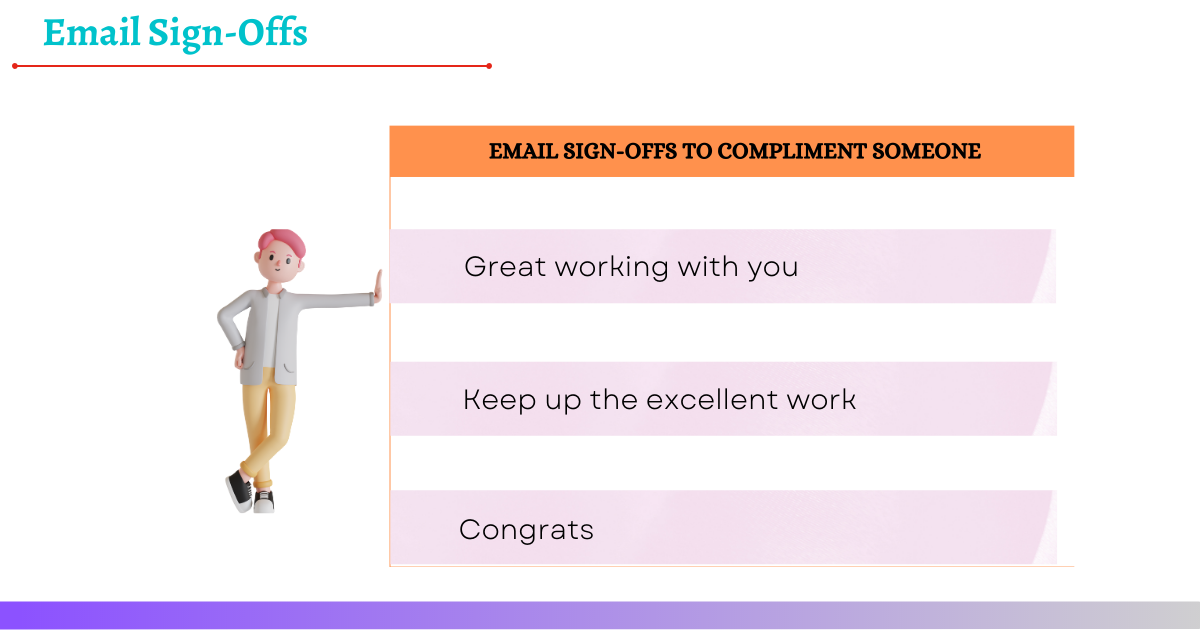 Great working with you: When you use such kinds of sign off for your email, you are actually making the receiver think about you for the collaborations shortly.
Keep up the excellent work: When you are giving feedback to someone or appreciating someone's work, use this sign off to keep him encouraged.
Congrats: I think everybody is known to when to use this sign off in emails.
Email sign-offs to avoid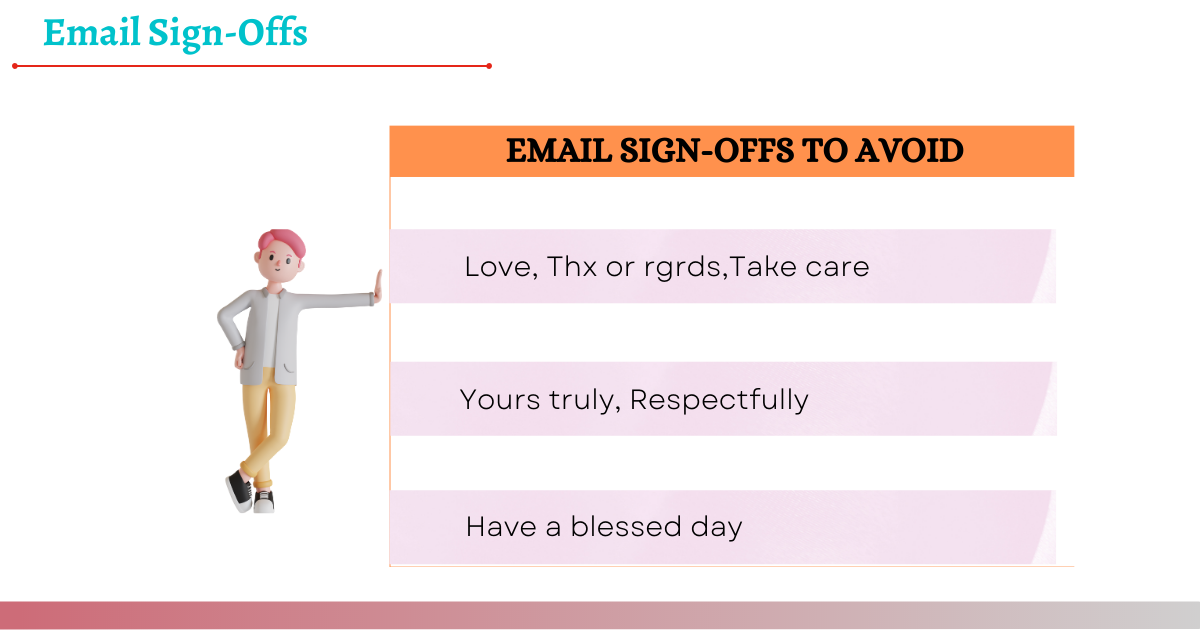 Love: Never use this sign off in business emails. This is reasonable to use with family or close friends only.
Thx or rgrds: Do not make the mistake of using this kind of abbreviations as sign-offs for your email. These short cuts should be limited to WhatsApp or messaging apps only. People may not show it, but they get bothered by such words. So, if you don't want to carry the burden of the email receivers' annoyance, keep those sign-offs at bay.
Take care: Take care looks pleasant in everyday conversation but not in professional emails. When you use sign-offs like take care at the end of your email, it seems to depict that the receiver is in the threat of some danger. Email experts, too, do not give a thumbs up to this sign-off.
Looking forward to hear from you: It may look decent and generous, but if you look further, it bears a tone of aggression; if you want to amuse your clients, better not to use this. Instead, you can opt for other email sign-offs like looking forward to talking about this, looking forward to having a conversation, etc. Why be rude to your customers when you can carry out the same with friendliness?
Yours truly: C'mon, you are not writing an application to your parents or teacher in 10th or 12th class. Following professionalism is essential. And do you think you truly belong to the email receiver? No, right. So, why to show some fake manners? Instead, stick to your own and opt for something else.
Respectfully/Respectfully yours: Respectfully yours is too formal to use in other contexts. This sign off more likely to suit the situation when it comes to writing an email to Government officials.
(nothing at all/blank space): People sometimes used to leave a space in the place of email sign off. It is maybe because they can't find the right word to conclude their email or do not give attention to the email criteria. In today's world, everybody sends email from android devices. It doesn't mean that you can exclude an email sign off with mobiles because it is email. One can't just use it to transfer his message without following the proper protocol.
Name or initials: This goes well with informal emails, but for formal ones, names, or initials are a big no-no. Especially when you are sending emails first time to your recipient, try to avoid this sign off.
Have a blessed day: You are most likely to think about what is wrong with a greeting like have a good day. But remember, this is not some conversation going on with your employees. It is always better to keep this kind of sign-offs aside when dealing with the email marketing business.
If you are looking for someone to relieve you of all your email related queries, you can contact us. Our email verification services will provide you everything right from spam email address checker, free email verifier, email list cleaning service, and validation email.
Here are some basic rules you need to keep in mind to make a lasting impression in the sense of the recipients through your emails
Do not end your email with a quote.
Brand logos that are too big don't catch the users' eyes; instead, it creates avoidance. So, do not just throw your brand's logo with the email ending.
One can add his/her contact information at the end of an email, but not in an elaborate manner. Keep it short.
Always use the right kind of sign off. Sign off is probably the last thing people read in your email. Even if you are not good at constructing a well-crafted message but use a suitable sign-off, then trust me, it is enough. Some people may even skip the middle portion and scroll down. If you can add something at the end of your email to bring delights to the recipient, you are most likely to get a response.