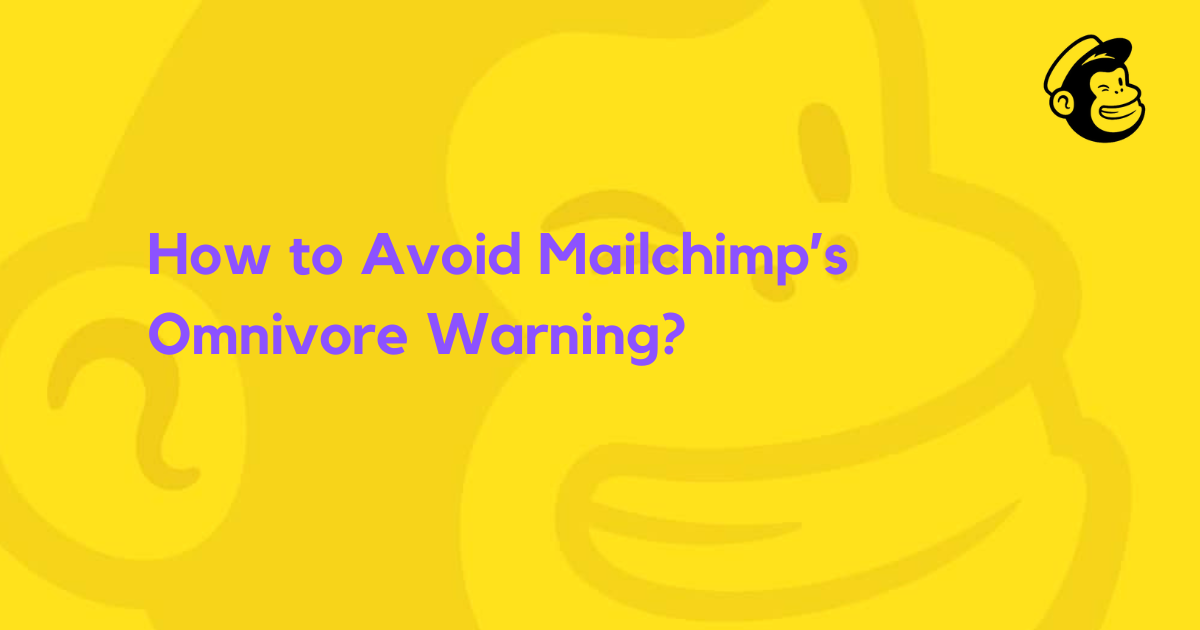 An ounce of prevention is worth a pound of cure.
This is especially true when it comes to Mailchimp's Omnivore warning. Yet, many businesses can't prevent suspensions because they don't understand Omnivore's algorithm.
Omnivore is heuristical. In other words, it's not 100% accurate. The software has a lot more false positives than you'd think. An Omnivore suspension can happen to you, even if you follow the CAN-SPAM ACT and the GDPR.
One anonymous marketing manager from Reddit shared an Omnivore suspension story.
I'd say once every 1-2 months the account I'm using for a larger client gets suspended because Omnivore detected possible abuse. We are very clear about the [opt-in] and [opt-out] policies and how the lists are collected (essentially tens of thousands of people create users on my client's site each month, and they can check a box to opt in to receiving emails, which about 1/3 of people do, and it's those 1/3 we send emails to).
The MailChimp Omnivore warning doesn't just happen to spammers. It happens to all types of businesses, even large companies that collect their email through opt-ins.
Mailchimp's Omnivore Warning Is Furtively Expensive
The anonymous marketing manager went on to note the problem wasn't resolved immediately.
"And every time it takes Mailchimp's staff a couple of days to review before they reinstate the account without giving any real explanation of why the suspension occurred."
MailChimp does permanently ban people, but they typically only suspend for Omnivore violations. Still, even a suspension of two days (like the one the anonymous company got) is a real headache. It can easily cost your business thousands of dollars. Here are some examples of that.
Day of the Week Sales- You have a surprise weekend sale planned. You want to send the campaign on Friday morning, but…
Last Call Emails- You're want to remind your customers they have 36 hours to order if they want their item to arrive before New Year's Day, but…
Golden Opportunities– You sell CRM software. Your largest competitor has always been a little too lax about security. Now, they just got hacked and everyone's personal data was exposed. Your email list has quite a few people that use your biggest competition. It's the perfect time to win them over, but…
But… you can't because your account is suspended.
MailChimp Omnivore suspensions are expensive. They've ruined many time-sensitive mass mailings.
Large Business Aren't Exempt
MailChimp takes their ESP reputation seriously. Even their larger clients get limited support when it comes to lifting Omnivore restrictions. Let's go back to the anonymous company for a minute.
"This particular client has some very large lists and is paying Mailchimp over $2,500 per month, and every time the account gets suspended it creates major headaches because it means we can't send mail for a couple of days."
This unnamed company pays Mailchimp $2,500 per month (at least 250,000 emails monthly), and they're running into the Omnivore problem.
In other words, you can't rely on a phone call or email to get rid of Omnivore. Even large clients that pay $2,500 a month aren't given a break. What chance do you have if you have a smaller account?
Omnivore is art, not science. It flags good lists and approves bad lists. So, your best bet is to stop Omnivore warnings and suspensions before they happen. Here's how you can avoid MailChimp's Omnivore warning.
Best Solution: Email Verification Software
The simplest way to avoid Omnivore is with email verification software. If you're willing to shell out a little bit of money, this is your best bet.
Nothing is faster and more accurate.
Email verification software helps your list slide past Omnivore. Here's why. Omnivore flags email lists with bad addresses. Email verification Service uses advanced algorithms to remove bad addresses. It's that simple.
Here's what good email verification software removes.
Emails That Hard Bounce
Emails With Incorrect Syntax
Emails With Invalid MX Records
Emails That Are Disposable
Emails That Appear Twice on Your List
Emails That Are Spam Traps
Emails Possessed by Long-Standing Complainers
These emails don't make you a cent of revenue. Yet, they'll get your email list flagged by Omnivore. Here's another key point. Email verification software isn't overly aggressive, like others methods that inadvertently delete good emails. There are other advantages of email verification software too. Some spam traps, like pristine spam traps, are grave violations. As a matter of fact, it's suspected one indecent address can get you an Omnivore suspension.
"It's most likely a single email address that's causing it to get stopped. Find the one doing it and it'll go through."
Finding bad email addresses isn't easy. Omnivore doesn't give you specific feedback. That's why manual Omnivore fixes can be akin to searching for a needle in a haystack. Also, there's a high risk of deleting false positives from your list.
Nevertheless, even though email verification software is the best way to avoid Mailchimp's Omnivore warning, it's not the only way. Here are some alternatives.
Send Reconfirmation Emails
MailChimp allows you to send reconfirmation emails to everyone on a flagged list. The people who reconfirm will be added to a list you can mail. The people who don't reconfirm won't be added to that list.
This strategy has a steep churn rate. Nevertheless, it gives you a very clean list.
Remove Role Based Emails
MailChimp has made it abundantly clear they don't like role-based email addresses. They automatically remove them during bulk email checker list imports. You can add them back one-by-one, but that makes you more of a target for Omnivore. Here's a list of role-based email addresses you should consider removing.
admin@
user@
help@
support@
no-reply@
A few role-based bulk email veifier addresses are good prospects and will generate revenue. Contrast this with totally unavailing email addresses. Emails like spam traps, hard bounces, and disposable addresses don't generate any revenue at all (and they often cost you money).
Double Opt-In
Double opt-in does a solid job of avoiding Mailchimp's Omnivore warning.
Yet, it's not without its drawbacks.
First, the double opt-in failure rate is 27%, compared to 15% for single opt-in. In other words, good prospects fall through the cracks when you use double opt-in. Additionally, double opt-in is a preventive measure that only works for new subscribers. Lastly, email lists decay every year by 22.5% so double opt-in needs to be combined with other forms of email list hygiene.
What's Your Omnivore Experience?
Getting your list rejected by Omnivore is frustrating. It can literally costs your business thousands of dollars. Use the tips above the avoid Mailchimp's Omnivore warning and suspension.
Did you have an Omnivore problem in the past? Do you have one now? Share your story in the comments