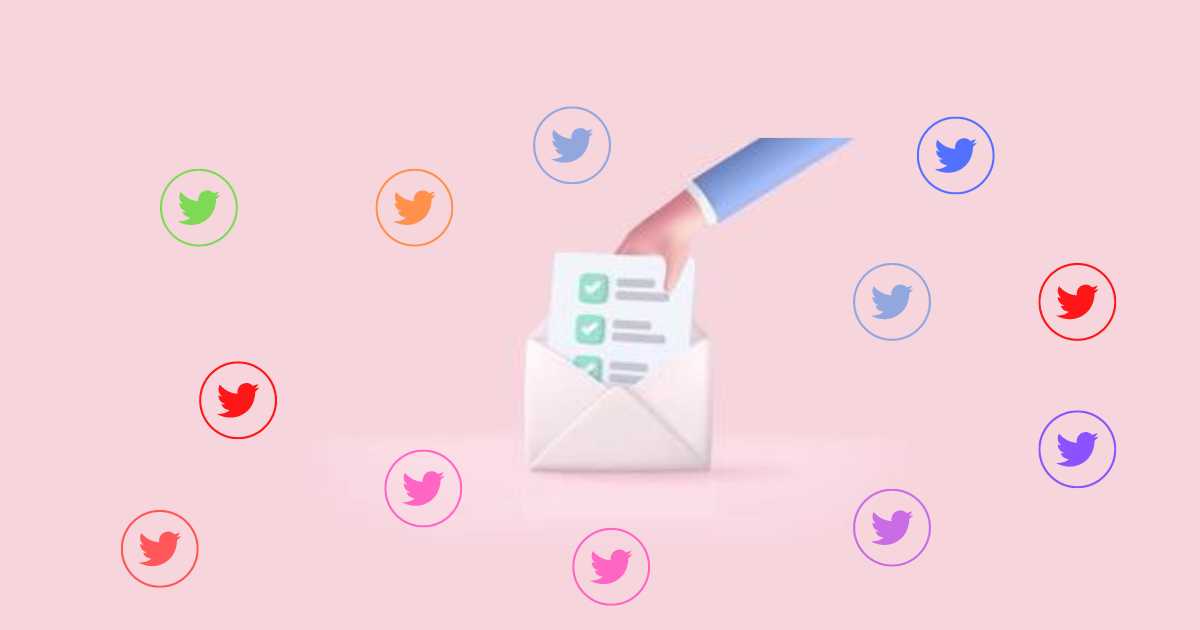 Email marketing has an amazing 3800% ROI.
That's true. Yet, there's one problem. Email marketing typically doesn't attract new traffic to your business.
Hubspot opines that 65% of businesses say that getting traffic and leads is their biggest marketing challenge. Fortunately, Twitter can be used to grow your email list. The platform has 330 million monthly active users. And these users engage with businesses and buy things. 93% of people who follow small and medium-sized businesses plan to buy something from the companies they follow. 69% have already bought something because of an interaction they had with a business on Twitter.
It's proven that (when used correctly) Twitter drives relevant traffic to businesses. It's a great channel to grow your email list. This article will show you six actionable ways to do just that.
1) Include a Click-To-Tweet Button in Your Email
Email marketing campaigns typically don't generate new traffic. However, they certainly can. If your subscribers share your emails on Twitter, then you'll gain exposure and new sign-ups.
Naturally, people are busy. Even if people like you, they won't share your message unless you make it easy-as-pie. One way to simplify the process is to include a click-to-tweet button in your emails. That way your subscribers can easily share any part of your email they'd like to. Moreover, you can steer them toward sharing a lead magnet with a CTA. That way you'll get exposure and new signups for your list.
Getting people to share content isn't as difficult as you may think. Look at the marketer Neil Patel. He wrote a short article that only contained 50 tweetable quotes. People tweeted it, and he got lots of new traffic. The article ended up getting 17,452 visits from Twitter alone. You can drive traffic to your email list signup page in the same way via Twitter.
2) Use a Pinned Tweet That Directs People to Your Lead Magnet
Pinned Tweets are great opportunities. Use a pinned Tweet to promote your email list. That's exactly what Joanna Pen did. Her pinned Tweet had 70,000 impressions, 2,066 engagements, and 166 email signups. When you're active on Twitter, qualified prospects see your pinned Tweet while browsing your page. If you have a targeted offer, you will be able to convert these visitors into email subscribers.
3) Leave a Link in Your Twitter Bio
Your Twitter bio should tell people who you are and what distinguishes you from the competition. It should also have a link to a landing page on your website. This gives interested prospects the opportunity to signup for your email list.
John Ferrera, the CEO of Nimble, recommends having a "consistent tone" on Twitter. This is great advice. For instance, some brands are formal and some are informal. Your bio copy is likelier to garner legitimate interest if the copy matches the tone on your other marketing channels.
Fortunately, the bio links on Twitter are clickable. Take advantage of this with your appealing copy.
4) Run a Sweepstakes on Twitter
Sweepstakes are a fantastic way to get more people to your website. Make sure you build a great landing page that's exciting and easy to navigate. If it's difficult, your customers will undoubtedly click away.
The prizes are also vital. You have to make sure they entice your customers. However, they need to be cost-effective and appropriate. Giving away an iPad may be too expensive. Also, imagine your a B2B SaaS company. The iPad may attract too many people who aren't interested in your brand.
The prize needs to fit your industry. Giving away a free software trial is great if you're a SaaS company. You can also collaborate with other companies, perhaps even getting free prizes from them.
Make the contest as easy as possible. Let people join simply by signing up and retweeting your content. Then give people an extra entry (or entries) if they sign up for your email list. This is a great way to grow your list. Not everyone will stay on your list, but you'll have the opportunity to reach many people that weren't available before.
This is your chance. Spotlight your brand's personality.
5) Use Backly
Sharing useful content on Twitter is a fantastic way to increase your brand exposure and earn goodwill. Still, it's not really growing your email list. After all, you're sending out links to other websites. To grow your website, you need to send people to your own website
Luckily, there's a solution that allows active sharers to drive traffic back to their website. It's called Backly. It allows you to add your own messages to any of the links you share. This is a great way to grow your email list.
6) Outsource Your Twitter Management to a Freelancer
Your goal is to use your Twitter account to get more email signups. A strong Twitter account will harvest more email accounts than a weak Twitter account. So, your best bet is to regularly manage your account. This can be done by yourself or through a freelancer.
Doing it yourself is a great option if you have the time. Yet, most small business owners don't have the time. That's why outsourcing monthly Twitter management through Upwork, Reddit, or Fiverr is a good idea. You can also use a referral from a helpful acquaintance.
You need to know what you want before you outsource. Here are some things that Twitter monthly managers do.
Consider five posts a day.
Retweet with comments.
Upload posts with images. 34% of followers are more likely to retweet your content when there's a visual.
Respond to questions. 15% of consumers will unfollow a brand if they don't get a reply. On the other hand, 83% of people who tweeted at a business and got a response, feel better about that business.
Participate in Twitter chats related to your industry. You can find a comprehensive list of chats here.
Find influencers in your industry. Then follow them and interact with them daily.
The Best Way to Grow Your Email List
41% of companies don't know whether their social media efforts are effective. This happens because many companies don't track their performance stats closely enough. You can use Twitter Analytics to track the performance of links on Twitter.
Do you use Twitter to grow your email list? Share your thoughts in the comments.