Discover the best Black Friday marketing strategies for 2023
It's time to get ready for the holiday rush. Once the planning process is over, you can have your website optimized, launch amazing deals and promotions, and do whatever else you need to take on your shoppers. If you are confused, keep reading to learn marketing techniques that will wow your customers and enhance your revenue.
Top Black Friday Marketing Ideas!
Social media traffic
Trade email marketing
Boost website for shopping
Analyze product page
Irresistible Deals
Following up after Black Friday
Rewards
Prompt a sense of urgency
Marketing Calendar
What is Black Friday?
In the United States, Black Friday is the day after Thanksgiving and is deemed the start of the holiday product sales season. It is also the day on which new releases by your competitors will begin to be advertised.
As your business wants to remain competitive, developing a marketing strategy with the goal of increasing revenue and delighting customers will bring you success.
Top Black Friday Marketing Ideas
Here are some Black Friday marketing ideas for you to try this 2022!
Social Media Traffic
A declining trend in social media makes the social commerce industry quite popular. By 2020, social commerce is anticipated to reach a market value of approximately $56 billion, increasing 50% from the figure projected for 2019. Why not make use of social commerce as part of your Black Friday marketing strategy?
You can connect your internet store with social media networks like Facebook, Instagram, and YouTube so you can post promotional deals on these platforms. In addition to this, you can run social media campaigns on sites like these that are dedicated to a particular holiday, like Black Friday. You can set end-of-the-year societal and often even customer-specific discounts through these campaigns.
Greater revenue and improving your online presence are just some of the many benefits of improving your social media presence.
Trade Email Marketing
Put your marketing plan together several days before Black Friday by placing popup forms on your website. This pop-up provides an easy way for customers to sign up for your list.
You might consider offering a client a deal as a thank you. For example, the client might receive 30 percent off their next order just by signing up for your mailing list. When you have your mailing list ready, you can send out customized emails based on the client's needs. An eMarketer survey revealed that a personalized email can have a return on investment (ROI) of 122 percent.
By combining email marketing with personalized email content, you can encourage customers to remain subscribed long after Black Friday has passed.
Boost Website for Shopping
Nobody wants to wait on a somewhat sluggish site to finish uploading, such as Black Friday. Ideally, you'll need your site to load fully within one second or four seconds since a 12–30% conversion timeframe is lost if the site and its pages have to load for more. The longer it takes for your pages to load, the more likely your customers are to leave.
You want to reduce the probability of your website crashing or failing due to the number of visitors attracted to Black Friday.
In the long term, by improving your site's functionality in today's competitive scene, you stand to prevent unfortunate Black Friday workdays.
Analyze Product Page
Your visitors will spend a lot of time on your website looking at the items they are looking for. So, it's important to inspect your merchandise pages, ensuring the web pages offer a great and efficient shopping experience. Ensure that your visitors are able to spot the items they want.
Auditing your product pages increases your consumer base. Just like optimizing your site, these changes are valuable avidly from the start of the calendar year.
Irresistible Deals
As you show your long-time customers that you appreciate their commitment to your brand, give them exclusive deals that will only reach them. It could be a giveaway, a discount, or BOGO, offering specials to your most loyal customers will increase their likelihood of returning to your business long after Black Friday.
Discounts and giveaways will allow you to maximize your stock before the new year.
Follow up after Black Friday
Although the Black Friday hype is over, don't overlook reaching out to customers. Ask for their feedback about their shopping experience. Are they pleased with their purchase? You can also suggest other products due to what they purchased or get them excited for Cyber Monday offers.
Use this opportunity to request feedback from your subscribers as part of a coordinated email marketing campaign.
Rewards
You can encourage customers to spend by offering them incentives if they spend well above a certain amount. They could receive a percentage off their purchase, free shipping, a promo code, or a free gift.
These rewards may motivate customers to spend slightly more than they planned. As a "thank you" for their trust, the company may also offer them an incentive to spend more.
Prompt a Sense of Urgency
To increase Black Friday sales, promoting a quick response is a productive strategy. There are many creative ways to sell customers on the importance of responding quickly, Flash sales offer items for only a few hours or a day. Using language like "last chance," "today only," or "now," you advise people that the product is on its last legs.
Collaborating with online marketers allows businesses to make use of email campaigns or hold social media promotions to encourage prospective buyers to purchase.
Calendar Marketing
To effectively market your product or holiday, adhere to a practical schedule. Make sure you create separate calendars for tracking campaigns that use various media, such as email or social media.
Handling a number of different sales and promotions with sales calendars will make running your other sales channels much easier. By setting up just one marketing calendar, you'll be able to keep track of all of your strategies and successes with confidence.
Black Friday Marketing Tips
Familiarize yourself with these fundamental strategies and use them properly throughout the year: game plans.
Creating one or several calendars will allow you to keep track of your Black Friday strategies.
Make certain that your site and product pages are optimized for heavy traffic from holiday shoppers.
Social media and email marketing will help you stay top-of-mind as your customers stay in touch with you frequently.
Utilizing these techniques during the holiday season is not going to only increase your profitability but also make a more gratifying shopping experience for your clients.
Best Black Friday Deals you must have!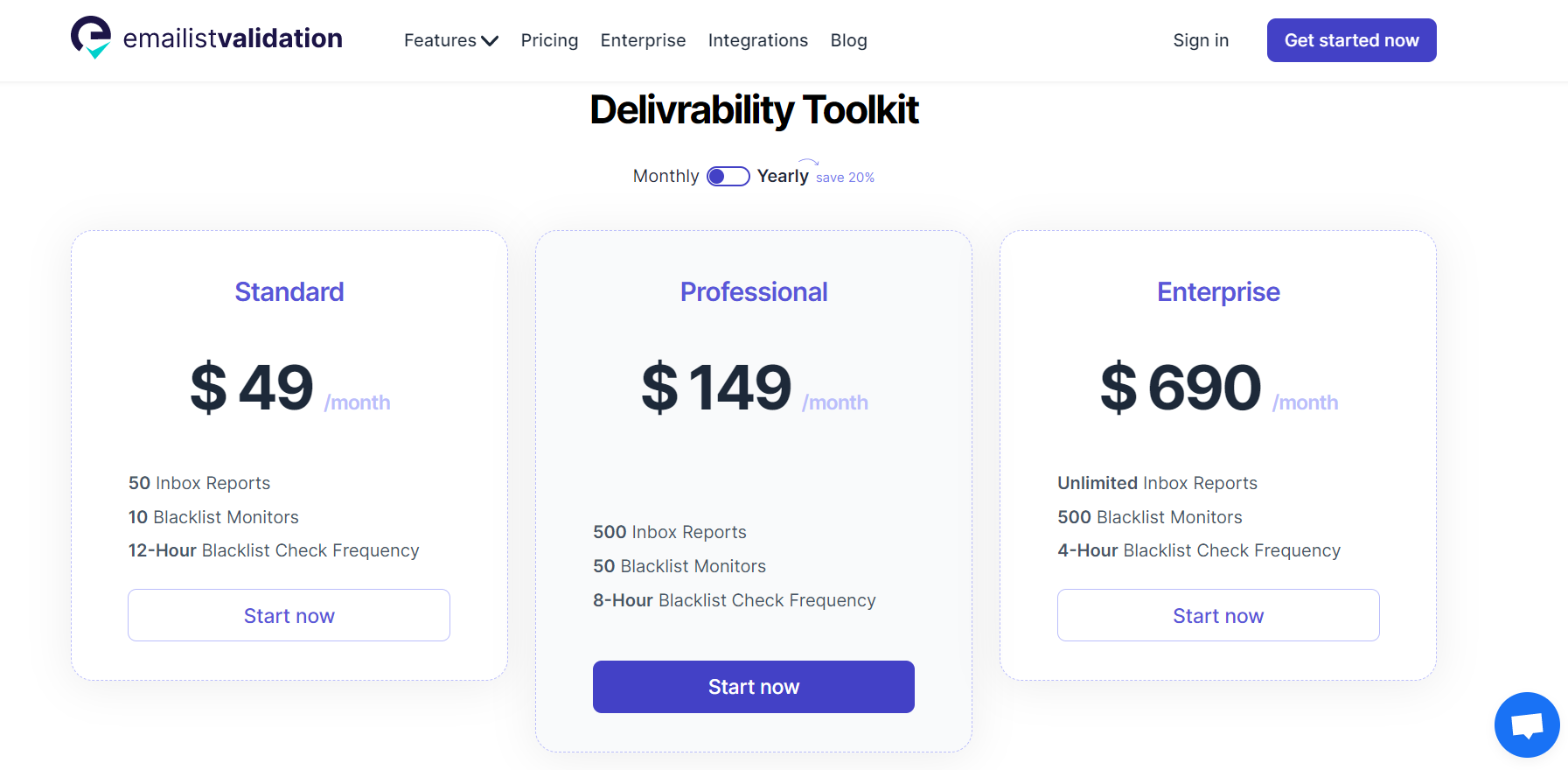 A reliable, 99% accurate, and affordable email validation to ensure your emails get delivered to the right inbox. Protect your email campaigns from toxic emails, verify emails in real-time, clean your list automatically, and sync with Mailchimp, Hubspot, ActiveCampaign, Mailerlite, and more.
Deal Details:
Buy one get 2

60% off any packages, coupon Code: BLACKF60
Valid: Between Nov 1 – 29
Placeit


This year Placeit is offering deals for the whole cyber week!
Deal Details:
50% off annual – $44.82/year – $3.74/month on Subscription Renewals. From Mon 14th – Tue 22nd
33% off annual – Only $5 a month / 10% off monthly subscription $13.45. From Wed 23rd – Tue 29th
You can also promote your own Cyber Monday deals using Placeit's Cyber Monday templates for Cyber Monday flyers, Cyber Monday images, Cyber Monday banners, Coupons, and much more!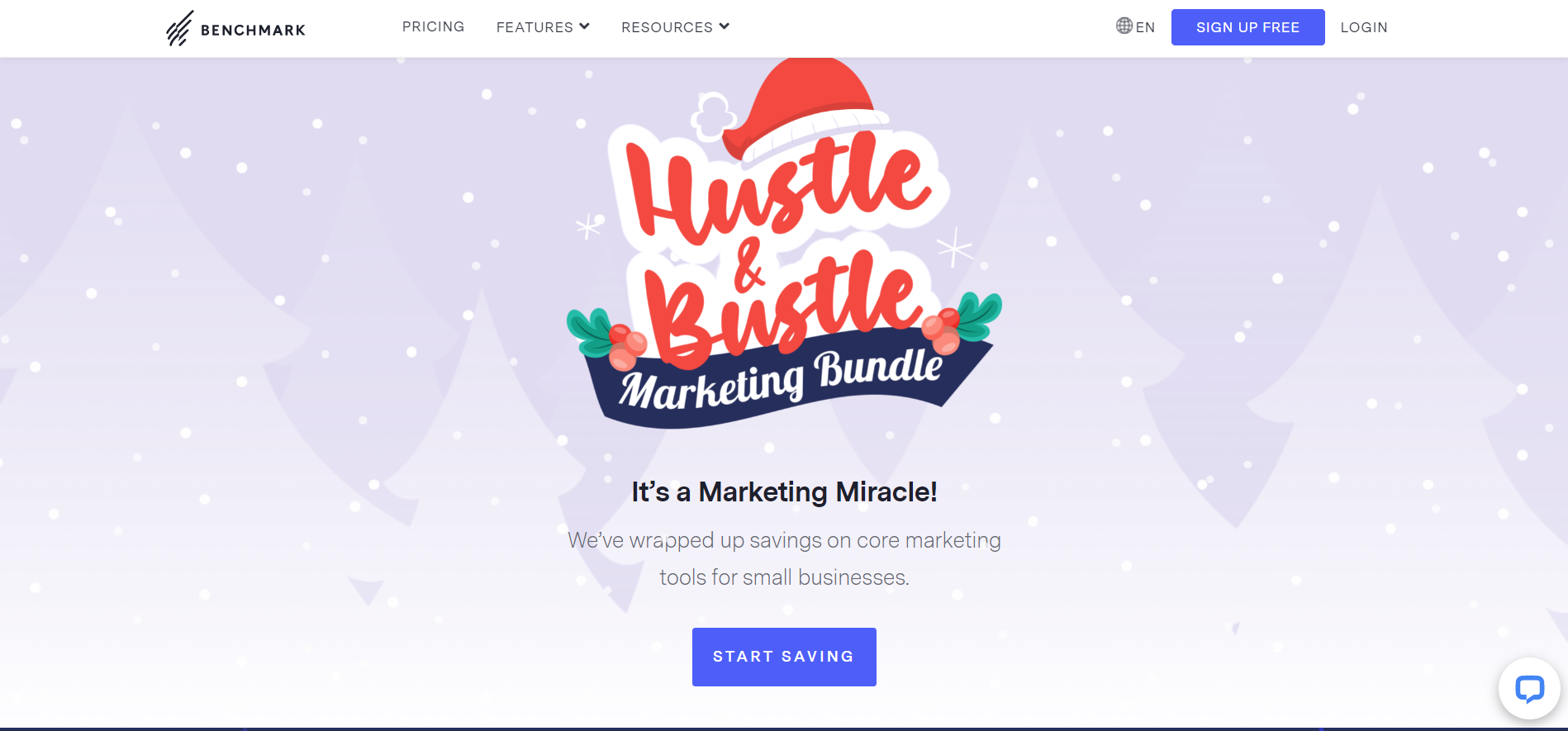 The most efficient way to reach out to your audience and acquire new customers is through powerful email marketing powered by AI tools, marketing automation, landing pages, and more.

Reach your audience and attract new customers with robust email marketing powered by AI tools, marketing automation, landing pages and more. Sign up for a free account with the link below, and receive 25% off ongoing when you upgrade to a paid plan. #HustleandBustle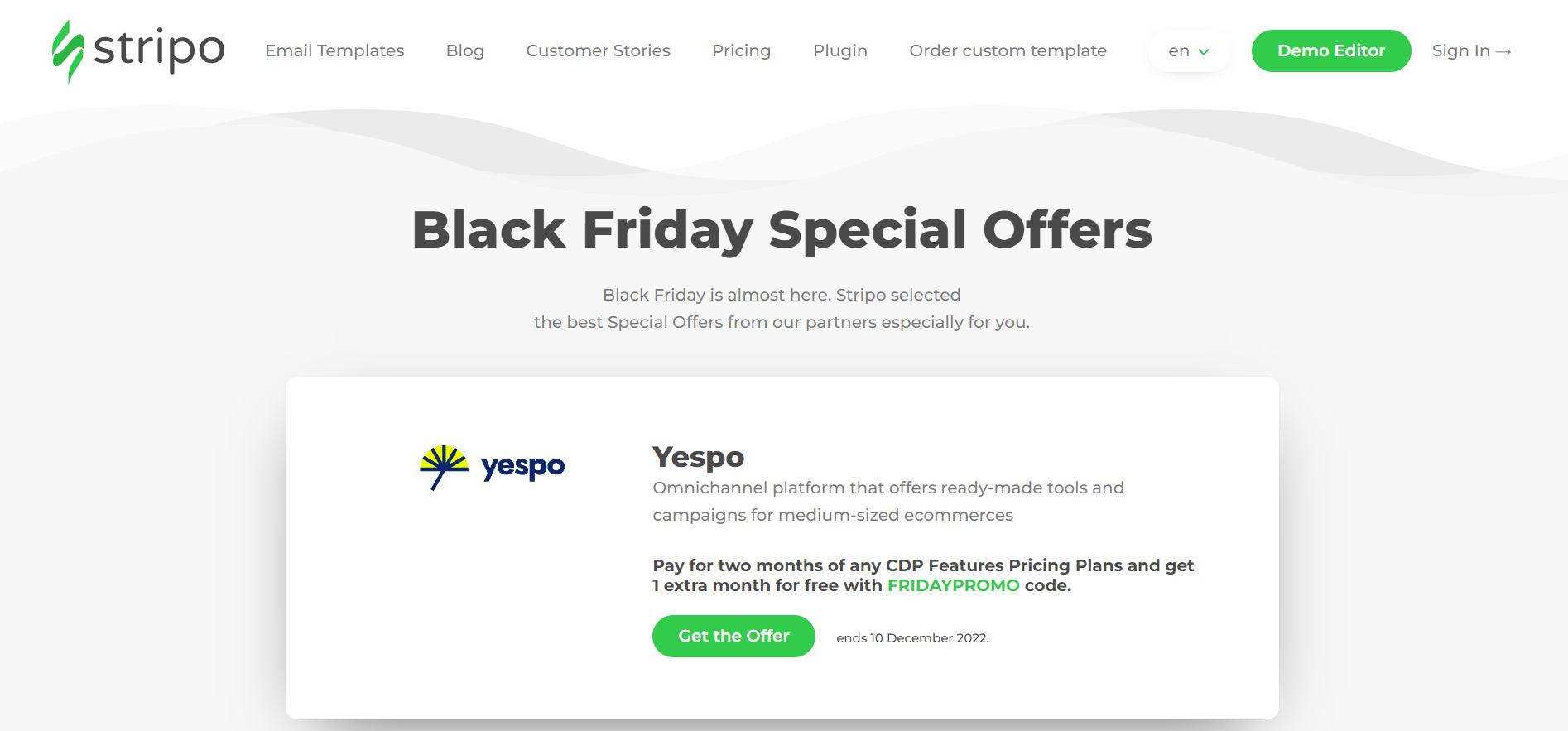 Stripo: 50% off Medium and Pro annual plans
Promo code: STRIPO56rOIE
Valid: from November 25th till November 29th.
No matter if you are an email marketer who uses the drag-and-drop editor or a skilled designer who prefers working with pure HTML code, Stripo is the perfect tool for you.
Stripo is an all-in-one email design platform with over 700 000 users worldwide. Stripo provides all necessary tools for creating emails of any complexity, including those with interactive, real-time, and AMP content. 1100 ready-to-use templates, ability to save and reuse email modules across multiple campaigns. Integrated with 70 ESPs/CRMs, which lets you push your emails to your marketing automation system with just 1 click.
Stripo is focused on the automation of the email production process. Thus, you can save up to 60% of the time you usually spend on email creation.
Breadnbeyond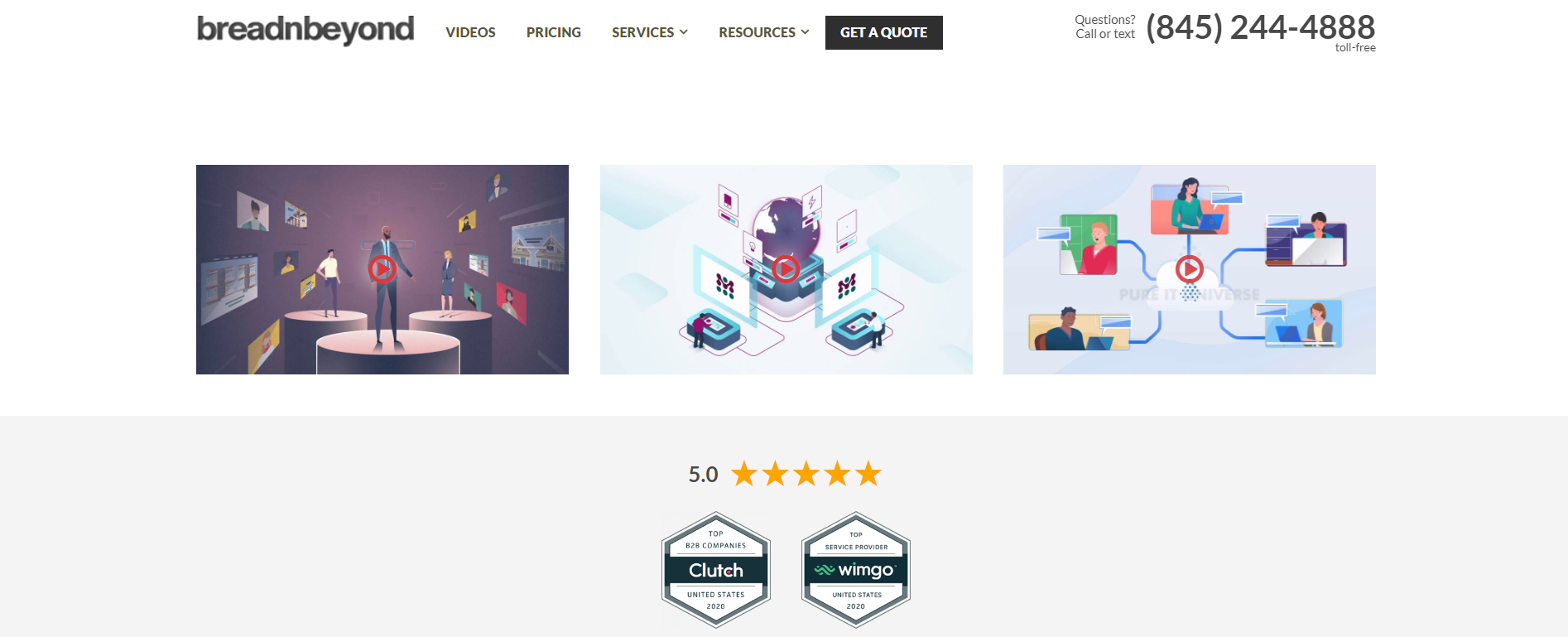 Brednbeyond is an award-winning explainer video company specializing in producing animated explainer videos. We create engaging animated explainer videos that help you introduce your brand, product, or service to the world – all from scratch, no template.Deals page: https://breadnbeyond.com/products/black-friday/Duration: Nov 24, 2022 – Dec 5, 2022
Mailmodo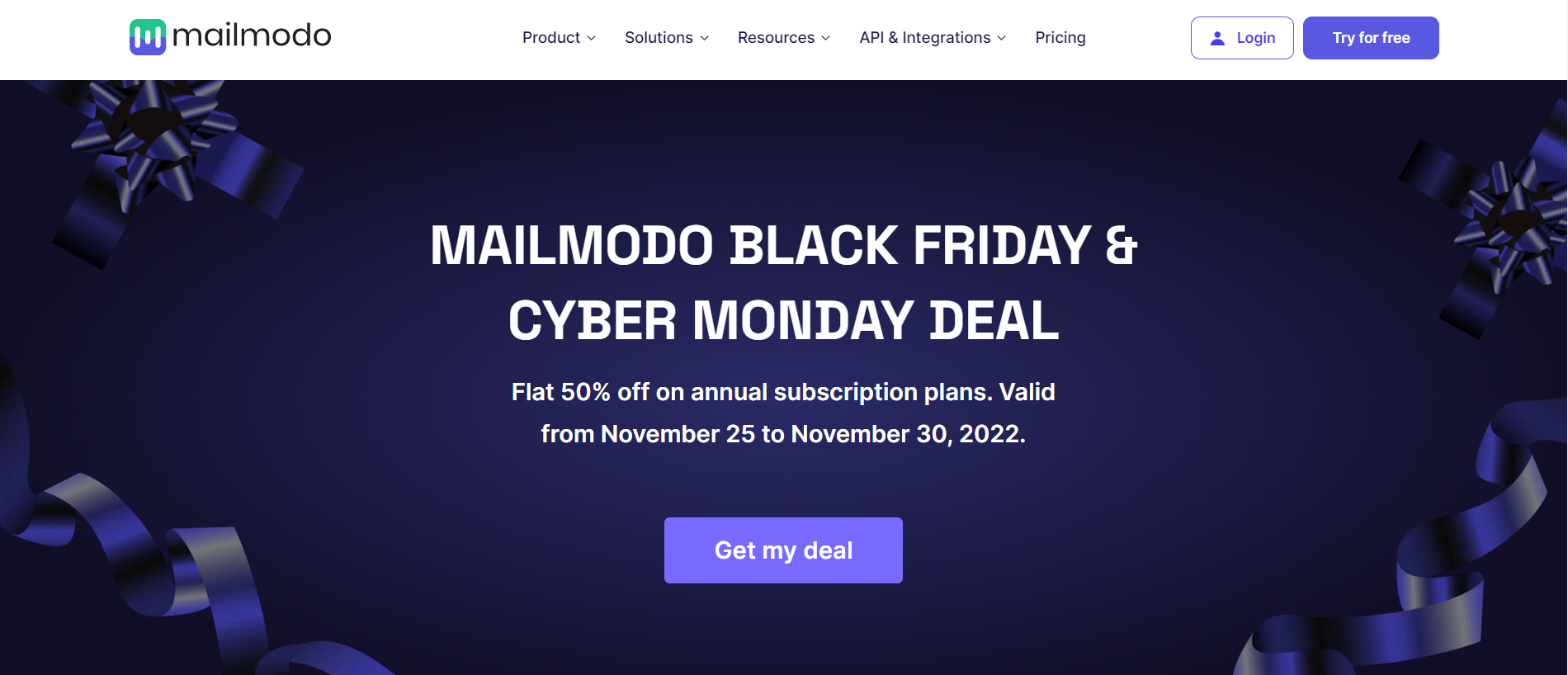 Mailmodo is a complete email marketing solution that lets you create and send interactive emails within minutes with its no-code editor. You can create campaigns, manage lists, personalize content, explore ready-to-use templates, save and reuse blocks, and track performance with smart reports – all at the same place. Mailmodo can also integrate with multiple CRMs to manage your workflow.
Deal Details:
Mailmodo is providing 50% off on all its annual plans to all new users. This offer is valid only on annual payments. If you sign up, you'll get access to all the benefits Mailmodo offers at a 50% discounted price.
Terms & Conditions:
Stand out in your recipient's inbox during the busiest week of the year with Mailmodo's 50% off on annual subscription plans*.
Offer valid between 25th-30th November 2022 GMT.
Application only on annual payments, not monthly.
Applicable only to new customers.
Have a question? Send us an email at [email protected]
Your BFCM offer landing page URL (or Coupon code)   – https://www.mailmodo.com/black-friday-email-marketing/
The offer is valid from – to (example Nov 18 – Dec 2) – 25th-30th November 2022 GMT