The Kickbox and NeverBounce email verification solutions are designed to help people identify and adjust to invalid email addresses and remove them from their contact lists.
Creating and selling a larger email list, maximizing website programs, and utilizing email validation solutions are all procedures that email campaign professionals typically utilize to succeed in the market.
But the ability to select email-checker tools can be overwhelming, particularly for those that are not hugely acquainted with using their services.
We've decided to make this transparent and completely impartial and talk about how their strengths and weaknesses match up to see which solution makes the most sense. Let's see what round two reveals.
What is Kickbox?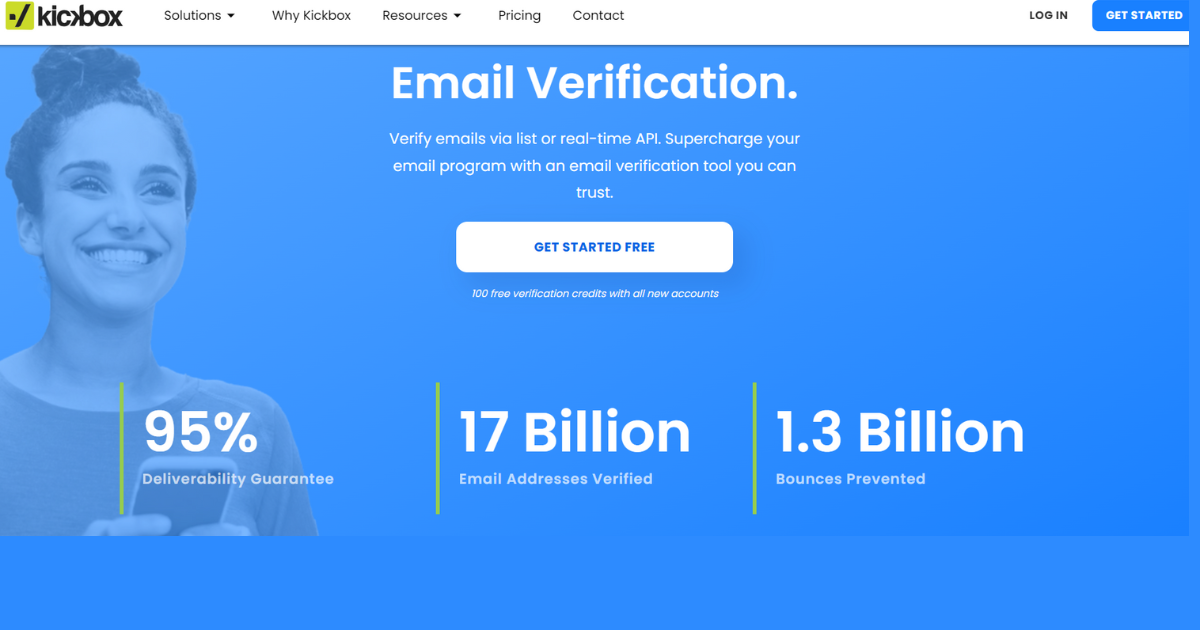 Kickbox is among the fastest-growing companies in the email verifier industry, it's an established establishment that serves as one of many providers of the industry's many clients.
In the wake of the recent update, they have just released an API connection technology that allows users to verify their email addresses directly from their websites. Additionally, they offer their users a well-maintained API dashboard where they can view their quantitative and qualitative data metrics to stay updated on their progress.
Their Technology is helpful for determining whether you should email your catch-all email address, but utilizing their AI of theirs to send emails is very dangerous. By rating, you are able to determine whether to email each catch-all address.
This technology allows you to ascertain the potential exposure of an impending email campaign. Additionally, you can learn the likelihood of a campaign landing in the junk folder.
One of the chief disadvantages of Kickbox is their pricing is somewhat greater than those of various other companies in providing anti-spam solutions like Email List Validation & Debounce. Kickbox ounce currently costs $60 per 10,000 email validation, which stands in contrast to various other suppliers.
If you're contemplating verifying your list, but are slightly concerned about the security of your personal information, it may be a problem locating a trustworthy email list checker that respects the privacy of sensitive information. But by using Kickbox, you can effortlessly shrug this concern off.
They are Swiss EU-US Data Foundation-certified vendors. This is rare in the email verification industry, as it's only a certification a few vendors possess.
Kickbox is unique in that it provides in-depth information with nearly instant email validation for people interested in delving into their data.
Pros
High accuracy
Kickbox boasts an accuracy rate of 99%. This improves the credibility of a company with readers that are doubtful.
It is essential to be accurate when confirming e-mails or tools such as Kickbox that flaunt extraordinary email verification accuracy rates. this makes a fit suitable natural environment for them to grow and demonstrate their strength as they stand out in the industry.
Most secure
When assessing the trustworthiness of an email verification company, individuals most frequently ask me about their data security plan. If you wish to share your list of customers with an organization, you might feel a little worried that email verification services will supply your address to their third-party affiliates.
The most important thing to look for when using a Kickbox email verification app is that it offers top-level data security and privacy. The tool has military-grade protection along with industry-leading encryption during email list verification.
And it's programmed not to erase your previous info more than 30 days after submission.
Outstanding scoring facility
Kickbox recently developed a new AI technology that gives users the means to score their email addresses with a CAPTCHA-style solution from 0 to 10, with results of 10 being the highest.
As a rating between 0 and 10, 10 is regarded as the most cost-effective score, and 0 stands for the least effective. This way, you can easily determine which leads are more likely to convert and pinpoint where they are in their customer journey.
Excellent customer support
Kickbox support team is quite responsive and helpful, and the experts can be contacted through a number of ways, including email, chat support, telephone, and ticketing. They also have 24/7 chat support and signal transduction with a specific call cannot exceed 15 minutes; this is tremendous.
Integrations
Kickbox is consistently integrated with more than 30 applications, including leading email marketing tools such as MailChimp, Active Campaign, AWeber, and a lot more. This allows you the convenience of speedily adding your email lists from one ESP that you may use. This empowerment has made it an easy task to manage.
Cons
Average processing time
We decided to compare the speed of verifying a list of emails to our competitors and were amazed at the duration it took to verify 10,000 emails only a few seconds. This is a below-average speed in comparison to what other companies provide.
Expensive
Kickbox is among the more expensive mailing list validation service providers available. Kickbox charges a whopping $80 for 10,000 email list verifications, which is austerely expensive in comparison to the competition such as Email List Validation.
What is NeverBounce?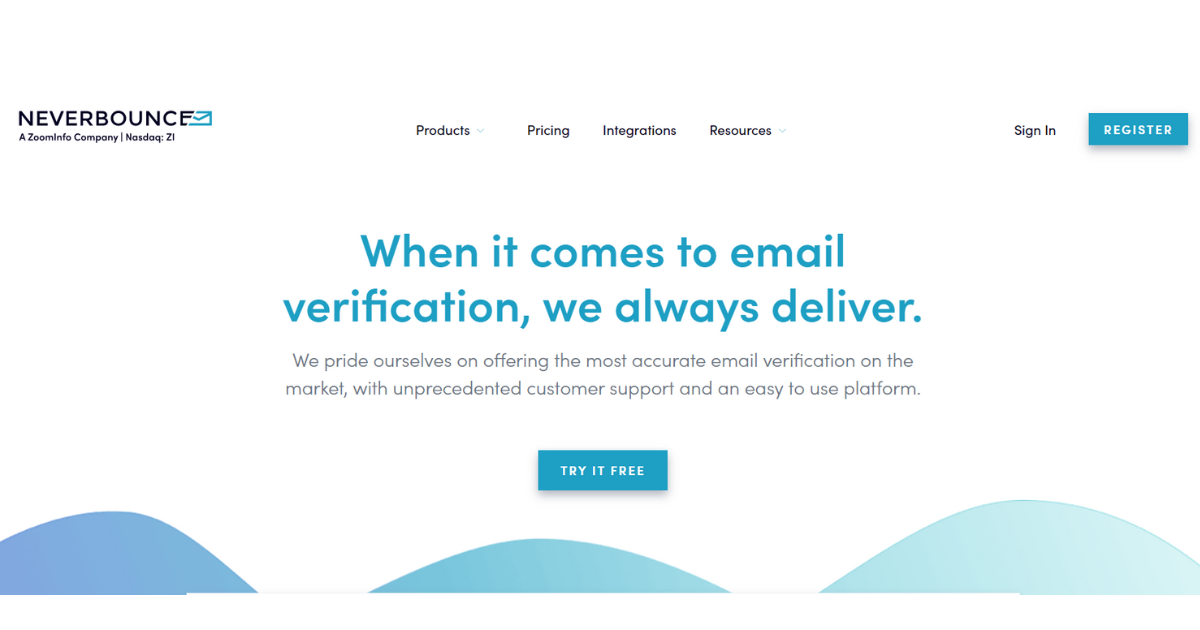 A well-known bulk mailing list cleaning service is NeverBounce. It works well regardless of the address you're sending to and can validate any kind of email. It charges $80 for 10,000 email addresses.
The new Sync feature from NeverBounce is noteworthy. After adding your MailChimp records, they'll automatically run Sync to clean up your list and the dangers posed by list hygiene. NeverBounce uses secure procedures and abides by the EU privacy regulation's requirements, thus protecting you from any privacy violations. If you require assistance, NeverBounce has a 100 percent money-back guarantee.
NeverBounce retains a lead over other providers of email validation services because of their considerable compatibility with email marketing platforms and other CRMs. Because they integrate with over 80 email marketing platforms, their tools function as complete email list validation processes for many businesses and a number of government agencies.
NeverBounce has worked with some of the largest organizations in the world, including Uber, Indeed, Dell, and many more.
As per this analysis, Neverbounce might be a good alternative for individuals who desire to validate lots of email addresses while staying close to an optimal rate.
Let's discover the two sides to the tool that you need to know about.
Pros
Fast processing time
The typical processing time for a list of 10,000 email addresses to be verified is roughly 498 minutes. What differentiates NeverBounce from comparable services is that it takes only 200 minutes to check over 10,000 emails.
Possessing a highly efficient system and having the capacity to yield quick results, we can determine that Zerobounce is among the quickest email verification services available on the market.
Multiple Integrations
We have previously discussed that NeverBounce has built an outstanding interface with more than 80 built-in applications such as high-ranking email apps and customer relationship management programs. This combination puts NeverBounce ahead of its competitors.
Superb customer support
The support team has an extensive comprehension of the solution is interactively responded to all technical questions. However, noted the criticism that it takes more time to respond to email ticket weaves versus an immediate answer in a live chat.
API integration
Neverbounce integrates with API technology to enable users to verify email addresses directly from their websites, landing pages, or mobile applications from which they initially gather email addresses.
Cons
Costly
One disadvantage of NeverBounce is that it comes slightly overpriced, making it rank the 16th for consumer-friendliness, so compared to low-cost email verification software, it can seem rather overpriced for some users.
It currently costs $80 to verify 10,000 emails, which is less expensive than its main competitor, Zerobounce, which charges $60. But it's still pricey for cash-challenged startups that have a limited budget.
Less precise
Regarding accuracy, NeverBounce is known to produce results with less than optimal accuracy, this can result in some individuals being turned off by lack of accuracy, especially when the expense is high.
While reading through many customer reports, we learn that some people express concerns about the fidelity of the process that resulted in the creation of an email list, so NeverBounce falls less favorably than promoted.
NeverBounce Pricing
NeverBounce offers diverse premium and free-of-charge choices. You can receive between 100 and 40 billion emails accurately with their free plan. Nonetheless, their more costly plans come with more capabilities and more verifications. You can sign up on their website for all their pricing and features.
Pay As You Go Rates
| | |
| --- | --- |
| Emails | Price per email |
| up to 10,000 | $0.008 |
| up to 100,000 | $0.005 |
| up to 250,000 | $0.004 |
| up to 1,000,000 | $0.003 |
Kickbox VS NeverBounce: Pricing Difference
Kickbox and Neverbounce have been compared. It's now time to compare their prices.
Both tools have simple and flexible pricing options. One of the major concerns of selecting an email verification software is pricing, so let s take a quick look at this right now.
| | | |
| --- | --- | --- |
| The number of Email Verification | Kickbox | NeverBounce |
| Cost for 2000 Emails | $25 | $20 |
| Cost for 5000 Emails | $40 | $40 |
| Cost for 10,000 Emails | $80 | $80 |
| Cost for 25,000 Emails | $130 | $125 |
| Cost for 50,000 Emails | $400 | $250 |
| Cost for 100,000 Emails | $800 | $500 |
If you compare the two different service provider, you will notice that they are often somewhat similar in price. Nevertheless, you should still take into account volume-based pricing, since the price drops significantly the more of these you possess.
If you're on a budget and searching for regular usability, NeverBounce seems to be more affordable and reliable than ZeroBounce. However, Kickbox is still a worthy option when it comes to functionality and features.
Kickbox VS NeverBounce:
Kickbox and NeverBounce are email validation tools with minimal differences. Although both solutions have significant varieties, they aren't mutually exclusive. They are both popularly recognized as one of the industry's leading email validation methods.
In examining each tool's key features, we are able to identify that neither NeverBounce offers the basic email verification features stipulated by all users, nor may we ascertain them through extrapolation. In contrast, ZeroBounce offers more features for stashing them away, which makes it a more astute platform.
These results indicate that we created this little table to help compare two items side by side.
Let's take a look.
| | | |
| --- | --- | --- |
| Features | Kickbox | NeverBounce |
| Free plan | Verify 100 emails | Verify 100 emails |
| Delivery Guaranteed | 97% | 99.9% |
| Pricing for 10,000 Email Verification | $80 | $80 |
| Bounce Detection | YES | YES |
| Spam Trap Detection | YES | YES |
| Duplication Check | YES | YES |
| Bulk Email Verification | YES | NO |
| Disposable Email Detection | YES | YES |
| Money-Back Guarantee | YES  | YES |
The Alternate Option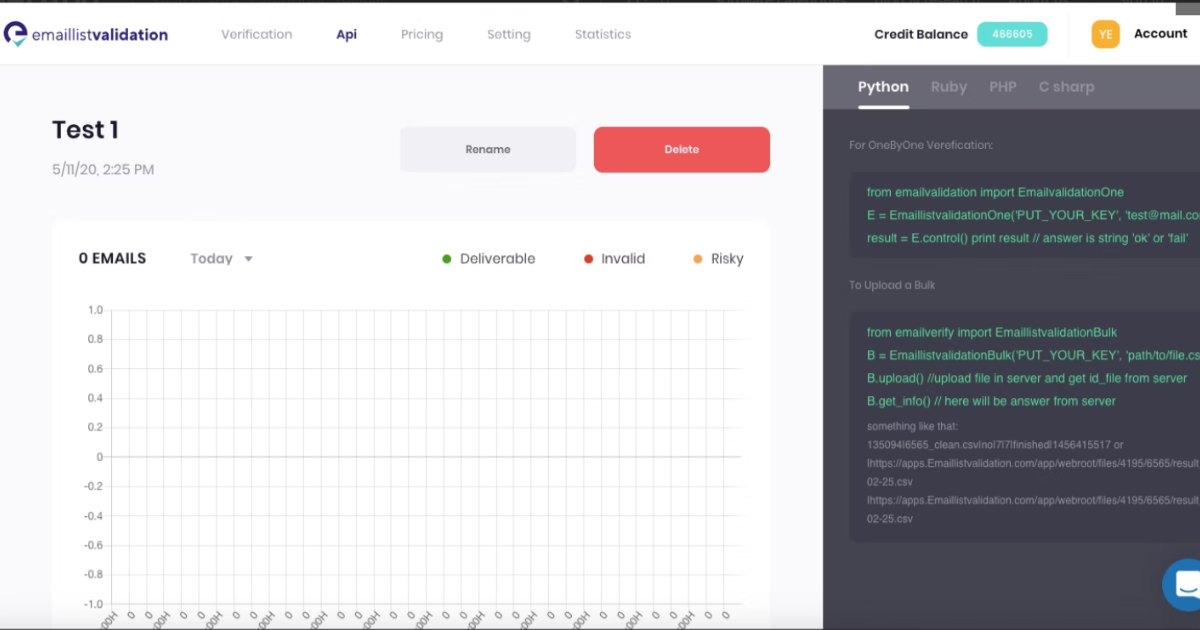 Email List Validation has been extensively used and proven by many of the biggest companies, such as Shopify, Toyota, L Oreal, and others. Our platform is used by over 400 individuals and has proven to be totally reliable. Our effective, highly accurate, and low-cost service makes it much more competitive than most antiquated mailing list validation software.
Email List Validation is rated among the top five email verification solutions worldwide, and we could not be happier to see the positive reviews of our loyal customers.
is very well-known for its advanced email validation services and real-time email cleaning solutions. We aim to give companies a tool for ensuring that their client's emails reach their customers' inboxes rather than going to their spam folders.
With our massive database of over 6 billion email addresses, we can reliably validate any email address in our database and match it against the database while eliminating any outdated email addresses.
Email deliverability is an essential element for online business owners. Email List Validation ensures you have a high level of deliverability for your email lists so that you aren't off track with email service provider guidelines.
Why Choose Email List Validation?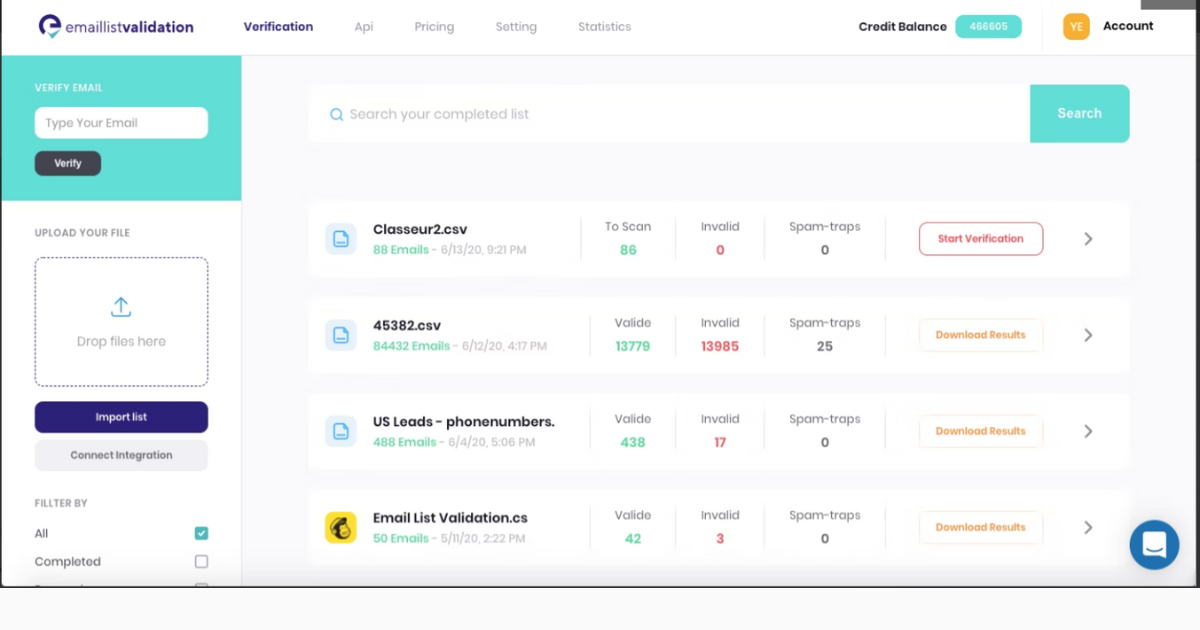 Email List Validation differentiates itself from other companies on the market because primarily focuses on those who typically struggle to secure early startup financing. We were also an early startup ourselves, and we at Email List Validation understand what it feels like to have little financing and struggle to develop an idea that may possibly attract mass appeal.
Our email list validation tools and enhanced database of billions of email addresses put us at the forefront of email list checkers. Assisting internet and brick-and-mortar business owners eliminate duplicate email addresses and spam traps, we help ensure their email lists are accurate and clear and remove obstacles to branding and sales.
Email List Validation Highlights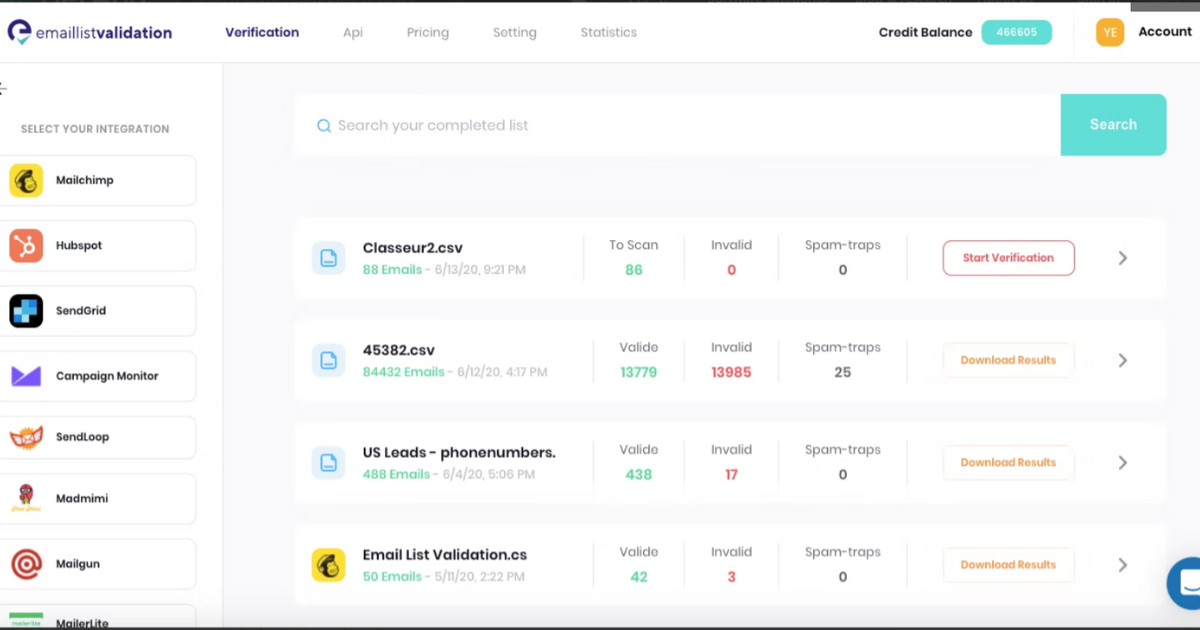 Email List Validation allows you to make sure that your email addresses are instantly and effectively verified with sniper-like accuracy. By sorting the three kinds of valid email addresses, invalid email addresses, and catch-all email addresses and spam traps that are dangerous for your deliverability and reputation, Email List Validation will enable you to get rid of all the email addresses in your company.
Since you simply have to integrate your email address into Email List Validation, or if you would like to streamline the procedure, we're available to help you use our API-administered validation method directly from your site.
Noteworthy features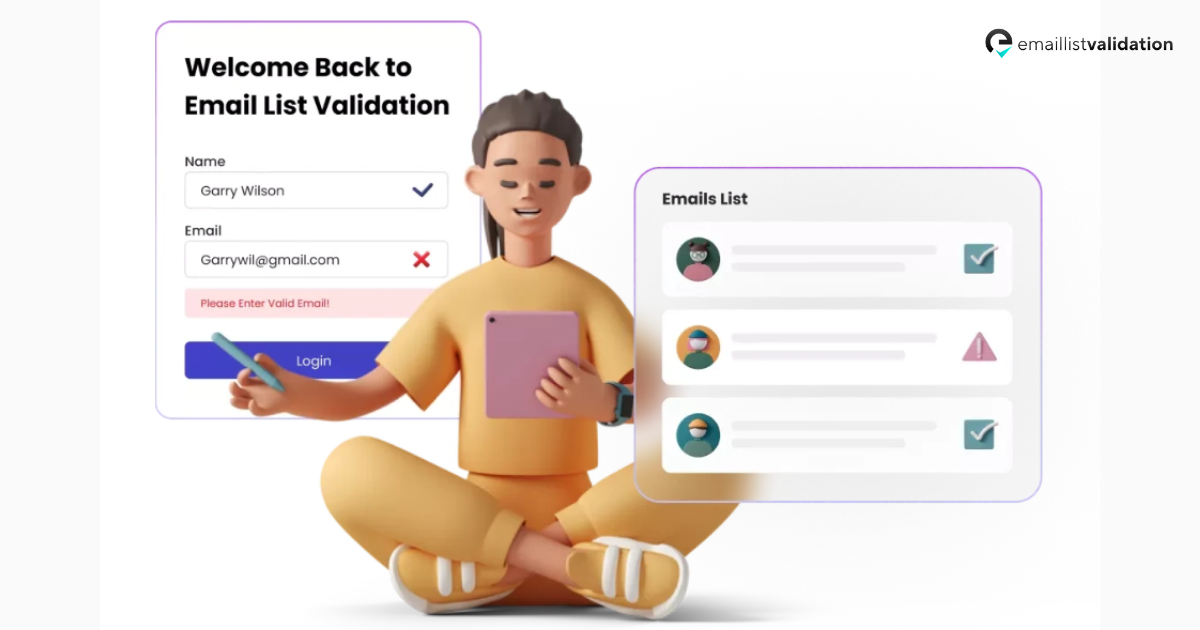 98%+ Higher quality
High-volume catch-all email addresses
Smarter process regulation and streamlined log-in
Easy to use self-service dashboard
Real-time verification
Guaranteed deliverability
Fast processing time
Integration with various leading ESPs and CRM platforms.
Email Validation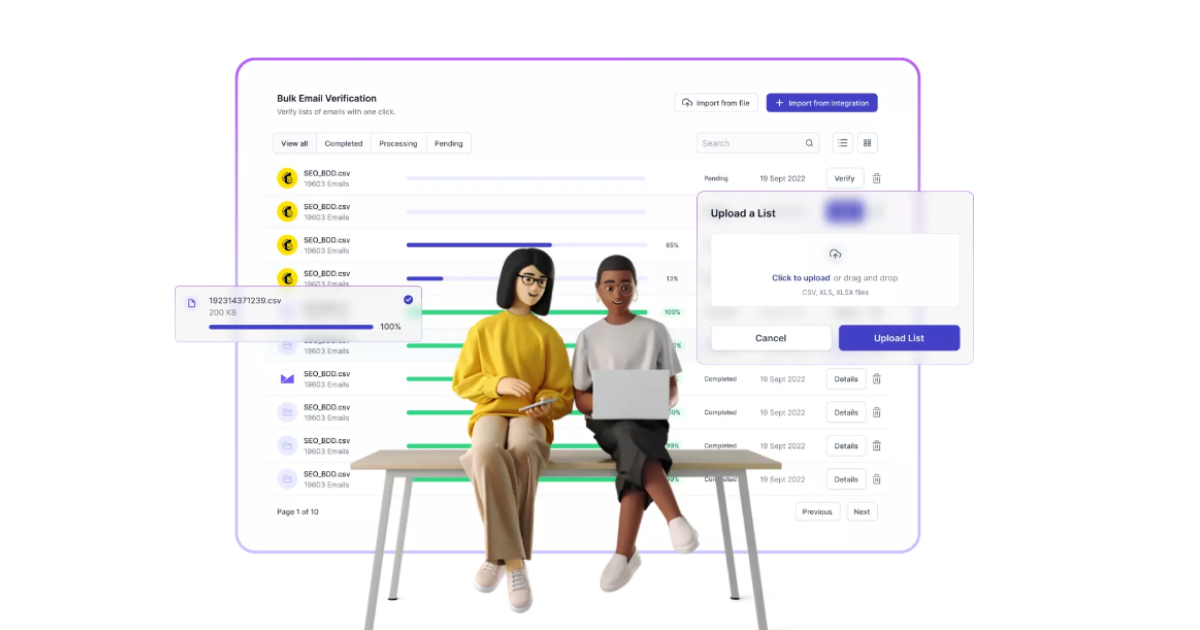 Email List Validation offers a variety of different validation checks including -based data cleansing.
Gmail addresses verification.
Detects Catch-all emails.
Syntax validation.
Detects Disposable email.
Role-based account validation.
Domain verification
MX Validation
Greylisting.
Spam Trap detection.
Duplicate email removal.
API verification support
Monthly 100 free credits.
Reach more potential customers when you choose Email List Validation rather than Zerobouce for email cleansing.
If you're responsible for sending out one of your firm's email campaigns or on behalf of your employer, you might be aware of the importance of taking necessary steps to prevent the communications you meticulously crafted from bouncing back and landing in your recipient's spam folder.
Each individual email address you add to your email list program with much more verification efficiency than compared to predictive analytics. The Email List Validation process simultaneously focuses on speed and accuracy, responsibly processing email messages of any size and deleting irrelevant or invalid data.
Email List Validation verifies more addresses than other accessible solutions, resulting in more verified, trusted contacts.
One of the major benefits of Email List Validation is the automated email account verification system, with 15 direct integrations with one of the world's foremost ESPs and CRM systems, enabling you to clean email data in one location without any special requirements.
Deciding which email list checker is the best to improve your credibility and enhance your deliverability while clearing up your email list accurately can be a hard endeavor. But we can ensure that you will be pleased with your decision after using Email List Validation, as you will see that this tool's advantages far outweigh its drawbacks.

Cut down your cost by more than 50%
You can have up to 2,500 unverified emails reduced for $19 with Email List Validation as a Neverbounce alternative. Check out this option and find out how it can save you money.
| | |
| --- | --- |
| Email List Validation Pricing | NeverBounce Pricing |
| $19 for 2500 emails | $20 for 2500 Emails |
| $299 for 100K emails | $400 for 100K Emails |
| $699 for 500K emails | $1500 for 500K emails |
| $1099 for 1M emails | $2500 for 1M emails |
Try Email List Validation Now!
As a direct KnockOut alternative, we provide great results at a much lower price! Our service department is just a fast click away, and our services are of excellent quality. If you decide to pick us as KnockOut alternative, we'll be sure to over-deliver and make sure that every campaign is a smashing success.
Sign up today for free and get 100 free credits after you successfully signed up! No credit cards are required.