Sending mass emails in outlook: is it a good idea?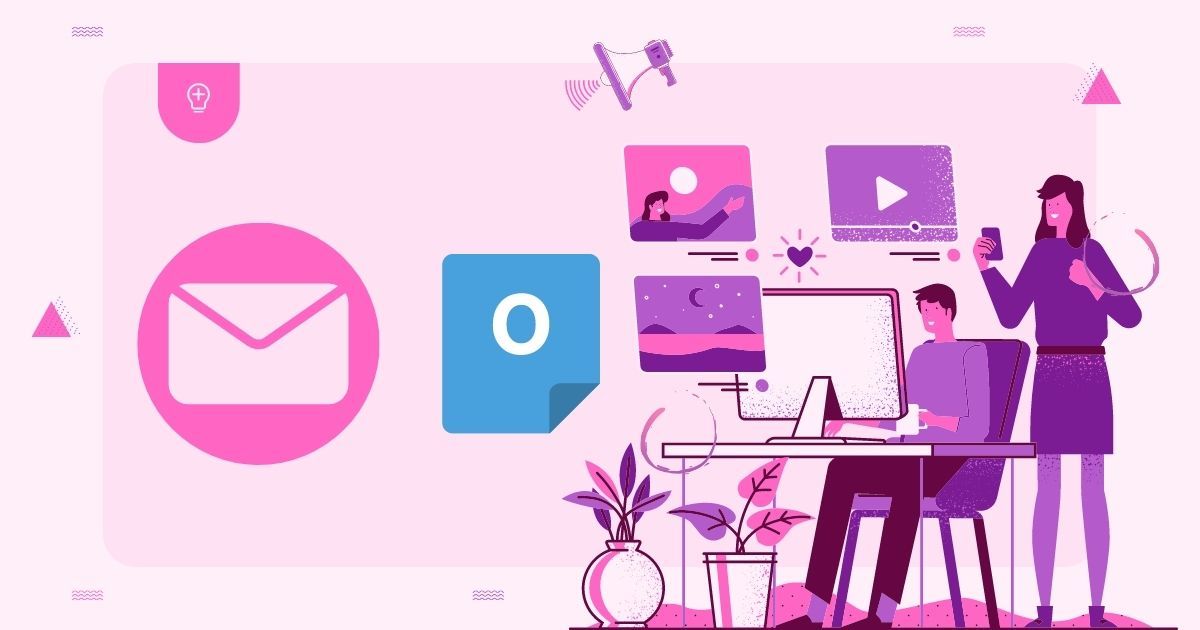 It is possible to send mass emails in outlook, although it comes with some limitations. Learn how to do it the easy way and why email marketing is essential to run any online business.
Mass email is no different than a regular email, only that it is sent to many people at once instead of sending it individually.
It is a good practice to build personalized messages and send them according to the gender, age, and category of people you may need to send mass emails.
Surprisingly you can use outlook send emails in bulk effectively and effortlessly.
With the help of Microsoft Word and using outlook, you can send mass emails easily in no time with the help of these six steps.
Write your mail in the Microsoft word
Click on the Mailings ribbon in word
Find the dropdown menu on the start mail merge option, and then click on email messages.
You will see three options after you click on select recipients. You must go with the best option.
(a) You can create a list where you can store the data of several contacts manually in the dialogue box.
(b) Take a list from which you can easily select an excel file from your computer. You must prepare the excel file in advance with at least three columns named email address, first name, and last name.
(c) Choose from Outlook Contacts. Now you need to choose specific people from your contact list in your outlook address book.
You can then send a message after clicking on finish and pass to your desired recipients.
Fill in a catchy email subject line in the email popup box and then click ok.
Doesn't it sound easy? There are quite a few disadvantages, however, associated with mass email sending in outlook.
Possible drawbacks of sending mass emails in outlook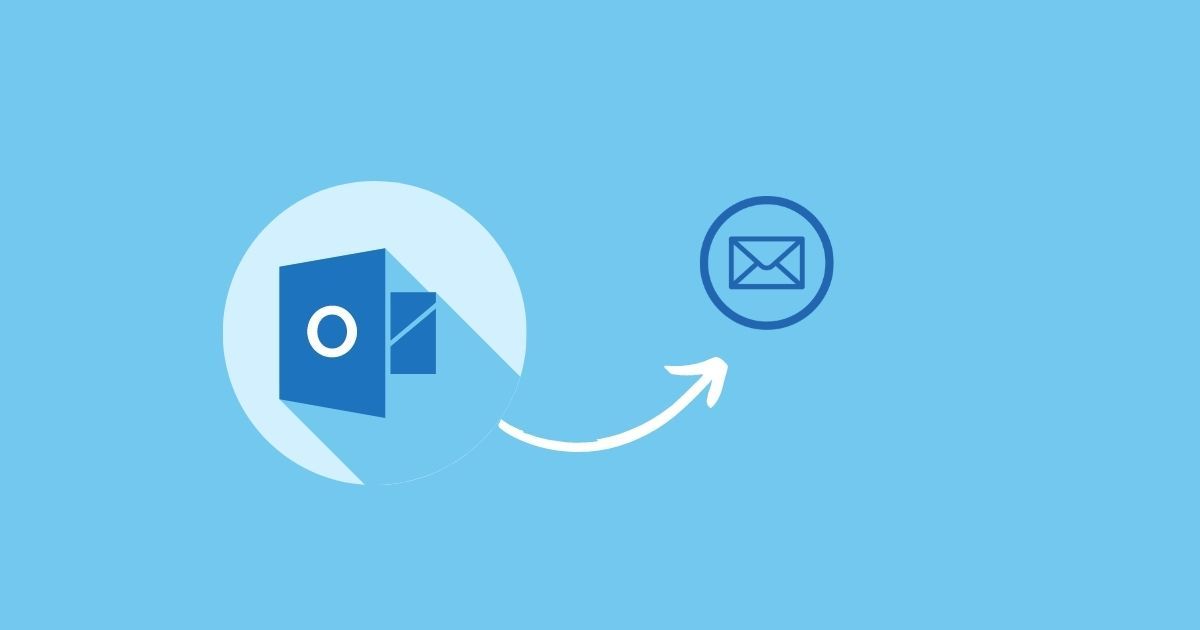 Outlook initially wasn't explicitly made for sending out mass emails, which is a significant drawback compared to other email marketing services. You can use it, but some factors may annoy you like:
Daily mail limit- Most internet service providers put restrictions on how many emails one can send, just like outlook. It has a limitation of 300 emails per day.
Doesn't include email design features like coding resources and email templates.
Doesn't include an analytics reporting feature to track campaigns.
Email recipients and ISP sent emails are often regarded as spam. As webmail is for personal use, the algorithm finds it suspicious.
Increases the chances after your mail IP server to be on the blacklist.
Why is sending mass emails a better option for email marketing service?
Email marketing is among the most profitable marketing channels, which can hike up a benefit of $32 ROI for just one dollar. It's essential to invest in an email marketing service if you want to leverage such ROI. Depending on outlook alone is not the way to do it right.
You get many features from many different providers available in the market and by showing plus points. No one will reveal the bad parts but just the bright side. You mustn't get brainwash and find the best email verification service for you, like Email List Validation and Email Inspector.
We provide services including everything from email address format, free email verify and email list cleaning service. You can also have a valid email checker and email verification service that you can use before you send out mass emails.
Here's how you can get additional benefits from Sendinblue that you cannot get from outlook.
Do not get email blacklisted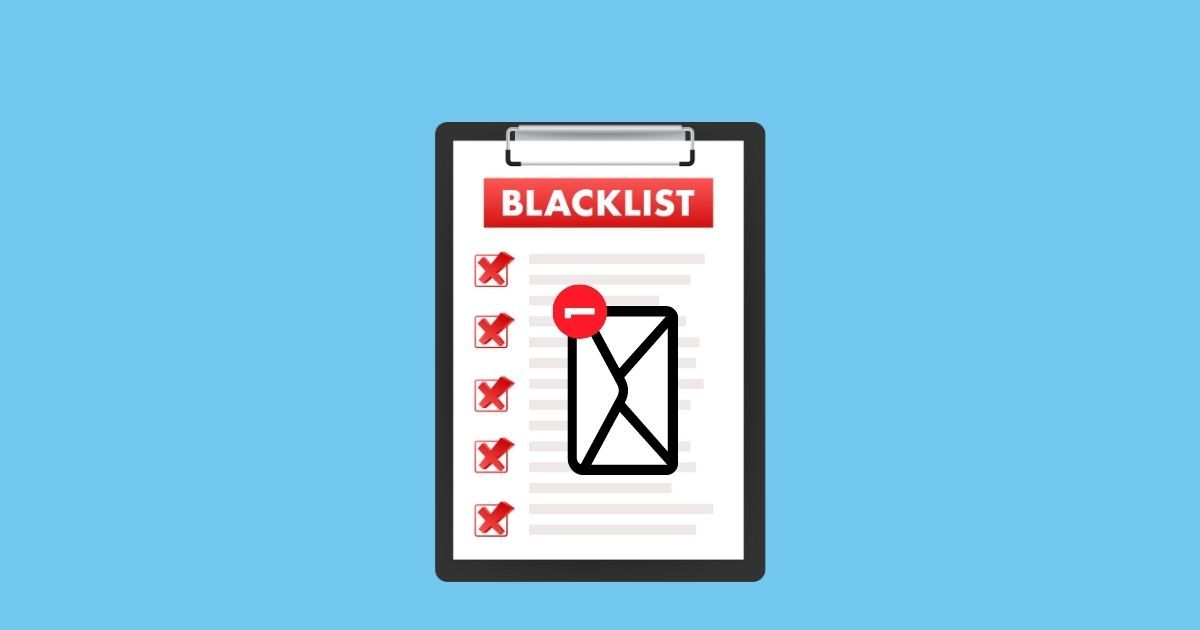 Sendinblue works on behalf of the primary center application and makes sure nobody blacklist the customers.
Optimal security is guaranteed by putting the accounts under strict validation to ensure it has a perfect deliverability. This is done for everyone that uses the shared IP address of Sendinblue.
Many users will work on a single IP address when it is a shared one. The company always has the benefit of working like this; however, the risk factor is the same for every user. A misbehave from a single user can cause a reputation for everyone sharing on the same IP address. Sendinblue here works wonders as it protects the shared IP address for every individual, which is very uncommon in other email marketing services.
Sendinblue also has a range of dedicated IP addresses for companies who need to work on an extensive email list; it protects the sender reputation by all means.
Do not stress yourself over GDPR compliance
It cannot be obvious if you are navigating the GDPR for the first time. You can't always be sure the email list building practices are legal.
Sendinblue comes with privacy and data security that makes sure the data for subscribers is used honorably and collected well. Also, it provides an unsubscribe option within the email, which is good enough for people as only who wish to receive the mails will receive the mail. This reduces the chances of spam. To do this, one must create customized email forms for people to subscribe to.
The whole set up three of the platform is in a way that GDPR  is a default function. You can safely grow your business if you concentrate accurately on the subscribers who are interested in your mails.
Make professional emails that showcase your brand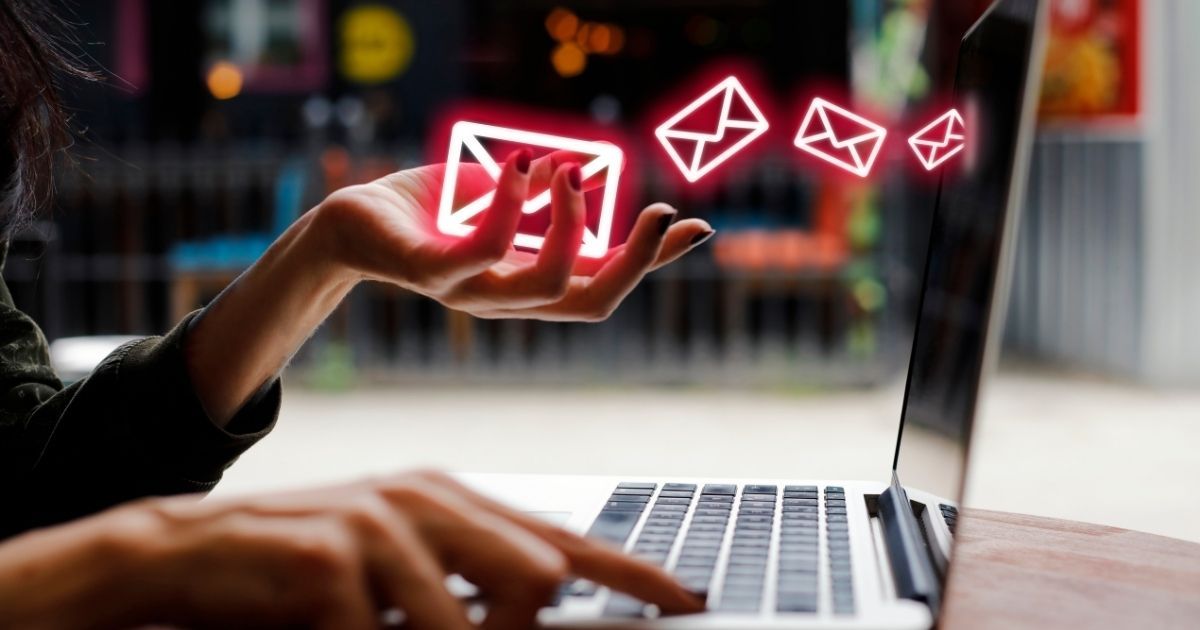 Without enough knowledge of CSS, HTML, or graphic design, it can be hard to design emails out of nowhere.
An email marketing service lets you design beautiful mobile-optimized emails with affordable resources in no time.
You get access to an email templates library with send include, and you can navigate it to choose your favorite templates. Just by drag and drop, you can effortlessly create responsive emails without any hassle.
A well-designed and clean email will catch your readers' attention right from the start if it showcases and glorifies your brand.
Do not spend time on list management
It can be time-consuming to add new subscribers manually and remove those who are not interested anymore.
You can track mail from Sendinblue quickly. It automatically removes the unsubscribers and adds the opt-ins.
Marketing automation workflows are a piece of cake if you are handy with Sendinblue. You can quickly move contacts to a list if they are required to be there.
Here's why you should get your SMB an Email Marketing Service
It's not fair for you to risk your customers by reluctantly sending mails through outlook- try Sendinblue instead.
It is the best alternative to Outlook out there if that's what you think is best.
You instantly get 9000 emails per month for free once you sign up.
Even the free version has all the core features like the few mentioned below:
Email design tool drag and drop
Mail automation
Integratable opt-in email forms
Campaign analytics email
Advanced segmentation and unlimited contacts
Email template library
It gives good result in your list; you can upgrade to the paid premium plans, which vary from $25 to 40K emails/month.
Promote your brand effectively through Sendinblue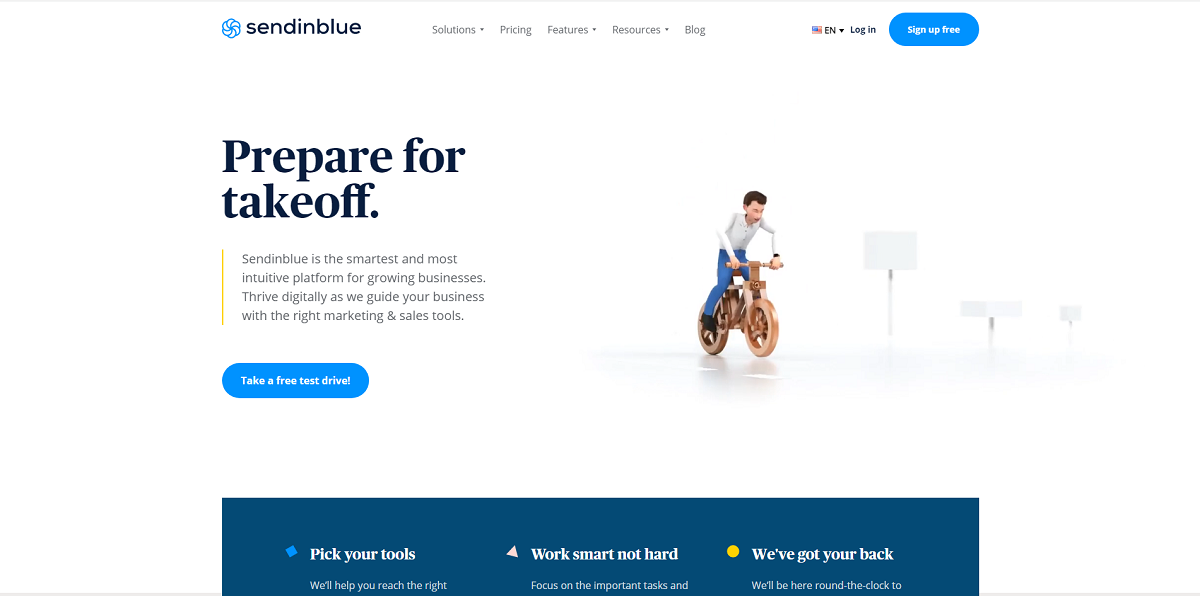 Here are some features you you get if you choose Sendinblue!
1. Design your messages
With easy navigation, you can design professional-looking emails within minutes. You can find templates in the library or make your design. You can use styles and block from initiative drag and drop builder that showcases the brand and impress the audience.
2. Customize the content
You can add new life to your content if you add text dynamically using personalization. You will have more benefits from the advanced options for email personalization that we offer.
3. Select your recipients
You get unlimited contacts and list in Sendinblue, which means no limitations at all! You can develop your strategy and choose the people based on specific criteria like history, geography, or gender. In short, you get a targeted approach.
4. Send intelligently
You need to finish your message, and then we will take it from there! We provide machine learning-powered optimization to track send time. You can send email timely by a mere click. These smart features will make you feel like you have a Ph.D. in digital marketing!
Sign up right now to get 300 emails each day!
It is a treat for new marketers as it gives many free features. At an affordable price, you will get premium features that can relieve you from any email marketing trouble.
Bulk email service from Sendinblue lets you get customers from leads. You will be able to send out mass emails all at once to a massive category of people within a click.
An email editor with good experience can develop email campaigns optimized for all screen sizes.
You get more than 70 options for templates for different emails. You get numerous options for images, buttons or even text that you can simply put through the drag and drop method.
It lets you edit the content most effectively, everything right from changing the font to inserting images.
Dynamic customization
Sendinblue uses contact attributes and lets you personalize mass emails.
You can grab the attention of every reader by personalizing the email and its subject line with the name. The data or email should be personal and connectinve each reader. Also, do not forget to send reactivation emails and rewards to loyal customers.
Available Plans
Free
For the free version, you need to sign up, and you can send 300 emails per day.
You get unlimited contacts as well.
Lite plan
This one is most suitable for new marketers.
It will only cost you 1510 INR per month and give you numerous benefits.
You get 100,000 emails, no restrictions on daily emails, full Email support.
Premium Plan
Best plan for professionals. 3895.5 INR per month. Other than the benefits included in the light plan, you will get additional benefits like 1000,000 emails, retargeting on Facebook ads, marketing automation, landing pages, telephonic support, multi-user access,
Do you still need more? We offer special pack customized just for you. You tell us how many emails and every other feature you need, and we will add it. We will prioritize your mails on time with 20 + landing pages. You will have access to more than ten users, customer success manager, SSO, and much more.
Filter out your contact list
Do not try to send a mail, thinking one size will fit everyone. You must send individual emails to individual receipt fans, and that's why it's essential to distinguish your contact list.
Create recipient groups by using attributes
Consider user behavior like purchase frequency, gender, and everything that gives you a hint. Your email should have all the things that can influence the other person to read it and buy your words
Make beautiful landing pages
You can build useful landing pages using Sendinblue builder, which will help you grow in no time.
Group together loyal customers
Have a dedicated page for people who are already subscribed to you for a long time. Thank them occasionally, and promote your special offers on the latest landing pages.
GDPR compliant double opt-in subscription
You can confirm GDPR requirements as our page builder helps you gather only consenting contact.
Have a catchy and responsive sign-up form
Make custom fields for additional information you would need from customers. Also, do not forget to send confirmation emails.
Import contacts in no time
If you don't need to add a new contact list because you want to work on the previous one, you can simply insert it and start doing a job.
Import sheets, CSV in a click
You can easily add new contacts manually and synchronize them through CMS, CRM, and e-commerce systems.